Malvern

104/386 Glenferrie Road
2,800,000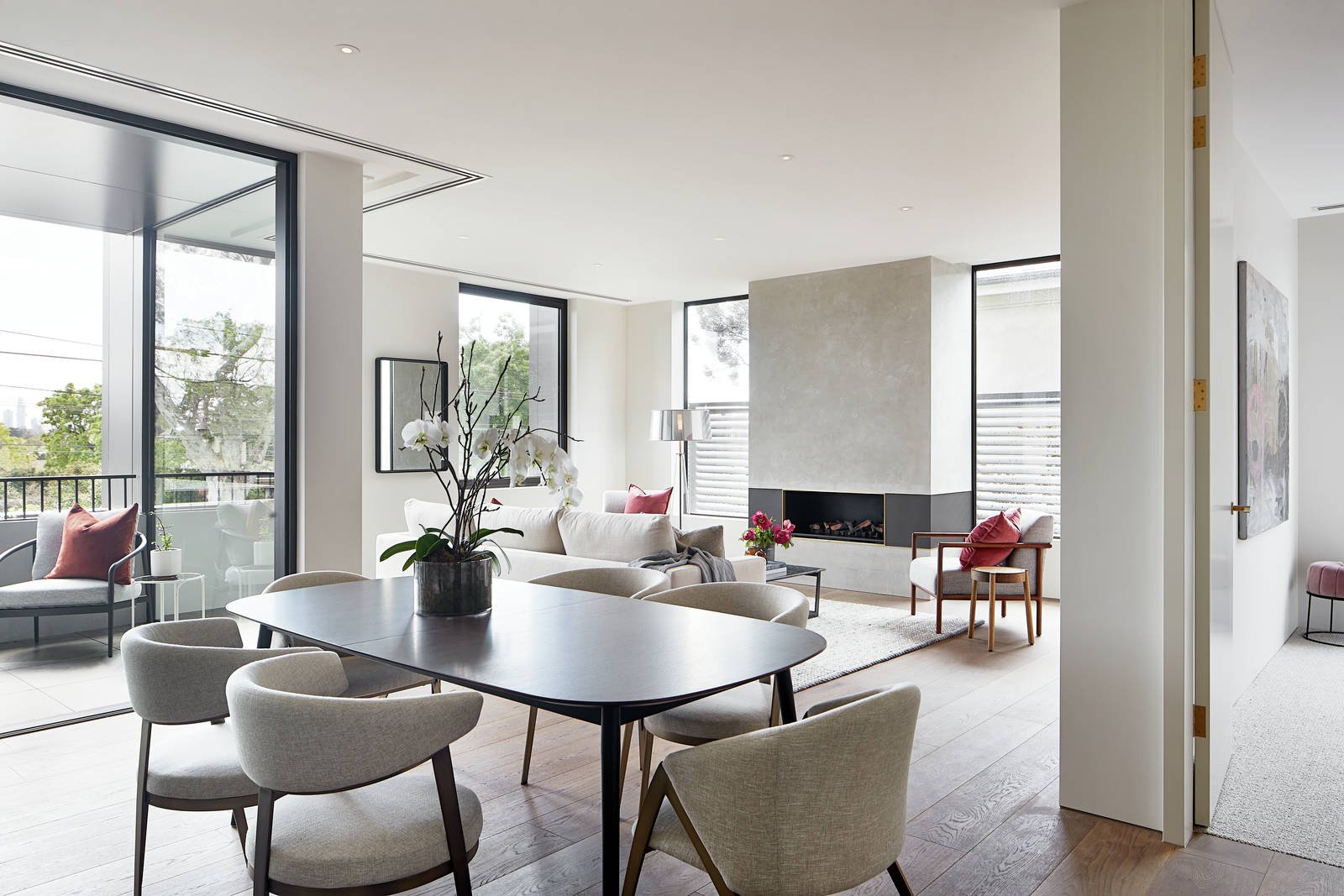 'MIDDLETON' - Treetop Residence 104
Bedroom:

3

Bathroom:

2

Carspace:

2
Open for Inspections are for those who are fully vaccinated in accordance with the Victorian Government regulations. Should you be unvaccinated, please contact us to organise your private inspection.
As leafy and alluring as its name suggests, this wonderful treetop residence captures precisely the character and the quality that define MIDDLETON, a brilliant brand new address by Rob Mills that looks at Malvern through a lens of unlimited luxury.
A living and dining domain characterized by bright natural light links seamlessly to a terrace that creates a captivating context for entertaining amidst Jack Merlo designed environs of botanic beauty. The kitchen's quality and capability is made immediately clear by stone surfaces, Miele appliances, 2 pac joinery and a walk-in pantry.
The presence of a clever, dedicated study zone adds to the appeal of a format featuring fabulous European oak floors and wonderful wool carpets, where tones and textures delight the senses.
Three bedrooms and two sophisticated natural honed stone bathrooms include a main bedroom of spectacular size and style, served by a faultless ensuite and a substantial walk-in robe - it's a refined and relaxed retreat.
Compelling in concept, exceptional in execution, this majestic MIDDLETON residence, with security and two car private garaging, is just moments from all of Malvern's attractions.
Inspection Times
Sat 22nd Jan.
10:00AM - 10:30AM

01/22/2022 10:00AM

01/22/2022 10:30AM

Australia/Melbourne

'MIDDLETON' - Treetop Residence 104

Open for Inspections are for those who are fully vaccinated in accordance with the Victorian Government regulations. Should you be unvaccinated, please contact us to organise your private inspection. As leafy and alluring as its name suggests, this wonderful treetop residence captures precisely the character and the quality that define MIDDLETON, a brilliant brand new address by Rob Mills that looks at Malvern through a lens of unlimited luxury. A living and dining domain characterized by bright natural light links seamlessly to a terrace that creates a captivating context for entertaining amidst Jack Merlo designed environs of botanic beauty. The kitchen's quality and capability is made immediately clear by stone surfaces, Miele appliances, 2 pac joinery and a walk-in pantry. The presence of a clever, dedicated study zone adds to the appeal of a format featuring fabulous European oak floors and wonderful wool carpets, where tones and textures delight the senses. Three bedrooms and two sophisticated natural honed stone bathrooms include a main bedroom of spectacular size and style, served by a faultless ensuite and a substantial walk-in robe - it's a refined and relaxed retreat. Compelling in concept, exceptional in execution, this majestic MIDDLETON residence, with security and two car private garaging, is just moments from all of Malvern's attractions.

104/386 Glenferrie Road, Malvern VIC 3144

Sat 29th Jan.
11:00AM - 11:30AM

01/29/2022 11:00AM

01/29/2022 11:30AM

Australia/Melbourne

'MIDDLETON' - Treetop Residence 104

Open for Inspections are for those who are fully vaccinated in accordance with the Victorian Government regulations. Should you be unvaccinated, please contact us to organise your private inspection. As leafy and alluring as its name suggests, this wonderful treetop residence captures precisely the character and the quality that define MIDDLETON, a brilliant brand new address by Rob Mills that looks at Malvern through a lens of unlimited luxury. A living and dining domain characterized by bright natural light links seamlessly to a terrace that creates a captivating context for entertaining amidst Jack Merlo designed environs of botanic beauty. The kitchen's quality and capability is made immediately clear by stone surfaces, Miele appliances, 2 pac joinery and a walk-in pantry. The presence of a clever, dedicated study zone adds to the appeal of a format featuring fabulous European oak floors and wonderful wool carpets, where tones and textures delight the senses. Three bedrooms and two sophisticated natural honed stone bathrooms include a main bedroom of spectacular size and style, served by a faultless ensuite and a substantial walk-in robe - it's a refined and relaxed retreat. Compelling in concept, exceptional in execution, this majestic MIDDLETON residence, with security and two car private garaging, is just moments from all of Malvern's attractions.

104/386 Glenferrie Road, Malvern VIC 3144
104/386 Glenferrie Road, Malvern VIC 3144