Port Melbourne

Penthouse/187-195 Graham Street
Expressions of Interest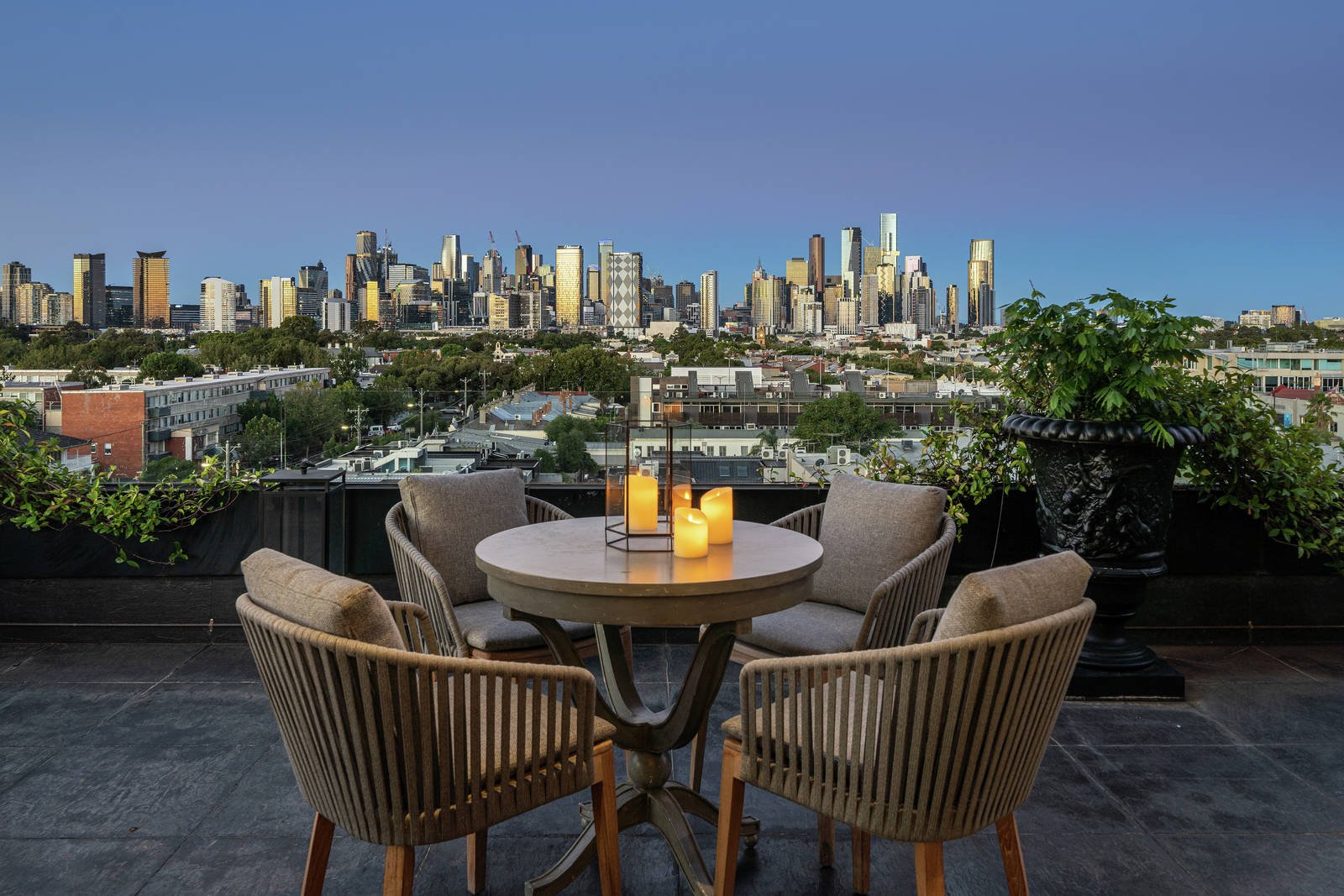 The Penthouse Port Melbourne | The Ultimate Entertainer
Bedroom:

5

Bathroom:

4

Carspace:

6
Inspect By Appointment
This five-bedroom whole floor penthouse with garden-like terraces and extraordinary light promises "gold standard" luxury living where no detail has been overlooked.
Uninterrupted panoramic views of the Melbourne skyline and beyond, delivering incredible lifestyle opportunities for anyone who loves to entertain or be entertained.
Secure and direct lift entry opens to the reception hall leading to the main living zone where formal and informal living merge seamlessly with a designer kitchen featuring Italian stone benches and a full suite of Miele appliances including an oversized pizza oven, steam oven and a butler's pantry. In the informal dining area, an integrated bench seat provides additional seating for casual dining. A second wing provides further flexibility with additional informal living serviced by a second Miele kitchen.
All bedrooms are beautifully appointed with imported fittings and finishes. The lavish main suite includes a deluxe fitted walk-in robe and marble ensuite, while the additional well-proportioned bedrooms have amazing views and impressive ensuites.
This captivating apartment includes four balconies measuring 140sqm (approx.), a spacious home office with spectacular views, two powder rooms and two laundries. Exclusive finishes and fittings include wide European oak floorboards and remote-controlled blinds and sheer curtains.
More attributes of this penthouse are its gas fireplace, wine wall, central reverse cycle air-conditioning, excellent building security, Foxtel and NBN and secure parking for six cars.
Brilliantly positioned close to cafes and restaurants, just steps to vibrant Bay Street, Port Melbourne shopping and schools, local pubs, gyms, parks, CBD and public transport, and only moments to the beach this is apartment living at it finest.
Conjunctional Agent: Kay & Burton, Ross Savas 0418 322 994
Inspection Times
Thu 26th May
10:00AM - 10:30AM

05/26/2022 10:00AM

05/26/2022 10:30AM

Australia/Melbourne

The Penthouse Port Melbourne | The Ultimate Entertainer

Inspect By Appointment This five-bedroom whole floor penthouse with garden-like terraces and extraordinary light promises "gold standard" luxury living where no detail has been overlooked. Uninterrupted panoramic views of the Melbourne skyline and beyond, delivering incredible lifestyle opportunities for anyone who loves to entertain or be entertained. Secure and direct lift entry opens to the reception hall leading to the main living zone where formal and informal living merge seamlessly with a designer kitchen featuring Italian stone benches and a full suite of Miele appliances including an oversized pizza oven, steam oven and a butler's pantry. In the informal dining area, an integrated bench seat provides additional seating for casual dining. A second wing provides further flexibility with additional informal living serviced by a second Miele kitchen. All bedrooms are beautifully appointed with imported fittings and finishes. The lavish main suite includes a deluxe fitted walk-in robe and marble ensuite, while the additional well-proportioned bedrooms have amazing views and impressive ensuites. This captivating apartment includes four balconies measuring 140sqm (approx.), a spacious home office with spectacular views, two powder rooms and two laundries. Exclusive finishes and fittings include wide European oak floorboards and remote-controlled blinds and sheer curtains. More attributes of this penthouse are its gas fireplace, wine wall, central reverse cycle air-conditioning, excellent building security, Foxtel and NBN and secure parking for six cars. Brilliantly positioned close to cafes and restaurants, just steps to vibrant Bay Street, Port Melbourne shopping and schools, local pubs, gyms, parks, CBD and public transport, and only moments to the beach this is apartment living at it finest. Conjunctional Agent: Kay & Burton, Ross Savas 0418 322 994

Penthouse/187-195 Graham Street, Port Melbourne VIC 3207

Sat 28th May
3:00PM - 3:30PM

05/28/2022 03:00PM

05/28/2022 03:30PM

Australia/Melbourne

The Penthouse Port Melbourne | The Ultimate Entertainer

Inspect By Appointment This five-bedroom whole floor penthouse with garden-like terraces and extraordinary light promises "gold standard" luxury living where no detail has been overlooked. Uninterrupted panoramic views of the Melbourne skyline and beyond, delivering incredible lifestyle opportunities for anyone who loves to entertain or be entertained. Secure and direct lift entry opens to the reception hall leading to the main living zone where formal and informal living merge seamlessly with a designer kitchen featuring Italian stone benches and a full suite of Miele appliances including an oversized pizza oven, steam oven and a butler's pantry. In the informal dining area, an integrated bench seat provides additional seating for casual dining. A second wing provides further flexibility with additional informal living serviced by a second Miele kitchen. All bedrooms are beautifully appointed with imported fittings and finishes. The lavish main suite includes a deluxe fitted walk-in robe and marble ensuite, while the additional well-proportioned bedrooms have amazing views and impressive ensuites. This captivating apartment includes four balconies measuring 140sqm (approx.), a spacious home office with spectacular views, two powder rooms and two laundries. Exclusive finishes and fittings include wide European oak floorboards and remote-controlled blinds and sheer curtains. More attributes of this penthouse are its gas fireplace, wine wall, central reverse cycle air-conditioning, excellent building security, Foxtel and NBN and secure parking for six cars. Brilliantly positioned close to cafes and restaurants, just steps to vibrant Bay Street, Port Melbourne shopping and schools, local pubs, gyms, parks, CBD and public transport, and only moments to the beach this is apartment living at it finest. Conjunctional Agent: Kay & Burton, Ross Savas 0418 322 994

Penthouse/187-195 Graham Street, Port Melbourne VIC 3207

Thu 2nd June
1:00PM - 1:30PM

06/02/2022 01:00PM

06/02/2022 01:30PM

Australia/Melbourne

The Penthouse Port Melbourne | The Ultimate Entertainer

Inspect By Appointment This five-bedroom whole floor penthouse with garden-like terraces and extraordinary light promises "gold standard" luxury living where no detail has been overlooked. Uninterrupted panoramic views of the Melbourne skyline and beyond, delivering incredible lifestyle opportunities for anyone who loves to entertain or be entertained. Secure and direct lift entry opens to the reception hall leading to the main living zone where formal and informal living merge seamlessly with a designer kitchen featuring Italian stone benches and a full suite of Miele appliances including an oversized pizza oven, steam oven and a butler's pantry. In the informal dining area, an integrated bench seat provides additional seating for casual dining. A second wing provides further flexibility with additional informal living serviced by a second Miele kitchen. All bedrooms are beautifully appointed with imported fittings and finishes. The lavish main suite includes a deluxe fitted walk-in robe and marble ensuite, while the additional well-proportioned bedrooms have amazing views and impressive ensuites. This captivating apartment includes four balconies measuring 140sqm (approx.), a spacious home office with spectacular views, two powder rooms and two laundries. Exclusive finishes and fittings include wide European oak floorboards and remote-controlled blinds and sheer curtains. More attributes of this penthouse are its gas fireplace, wine wall, central reverse cycle air-conditioning, excellent building security, Foxtel and NBN and secure parking for six cars. Brilliantly positioned close to cafes and restaurants, just steps to vibrant Bay Street, Port Melbourne shopping and schools, local pubs, gyms, parks, CBD and public transport, and only moments to the beach this is apartment living at it finest. Conjunctional Agent: Kay & Burton, Ross Savas 0418 322 994

Penthouse/187-195 Graham Street, Port Melbourne VIC 3207
Penthouse/187-195 Graham Street, Port Melbourne VIC 3207