Armadale

50 Northcote Road
Expressions of Interest Closing Wed 23rd June 5pm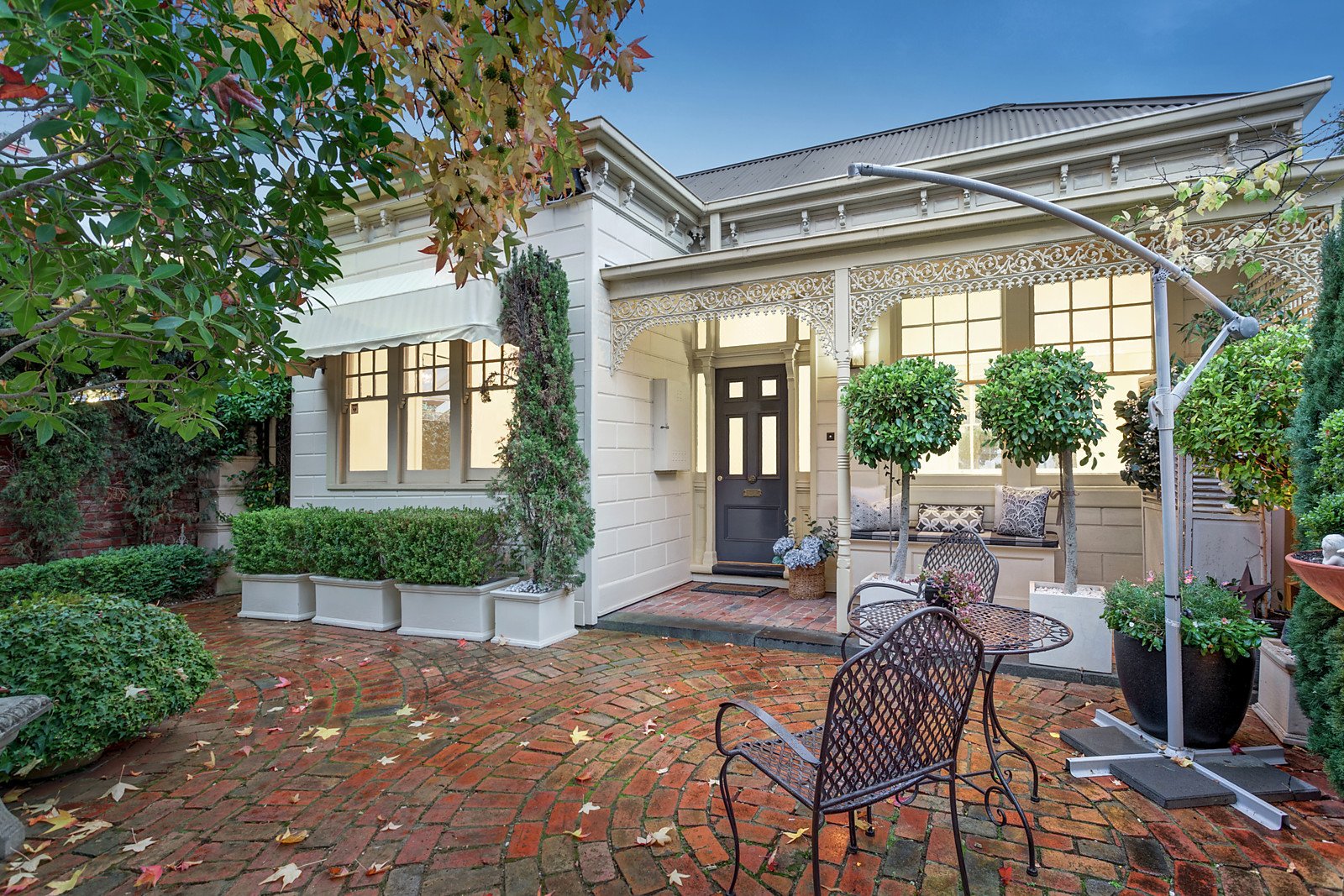 Prized Armadale Location and Lifestyle
Bedroom:

4

Bathroom:

3

Carspace:

2
INSPECT STRICTLY BY APPOINTMENT BETWEEN ADVERTISED TIMES
Delivering a family lifestyle of rare versatility this much loved property is offered for the first time in 40 years. A timeless Victorian home is enhanced by a separate apartment, connected by a central courtyard garden providing a secluded oasis perfect for entertaining.
The beautifully private entrance, framed by lush gardens, opens to a classic Victorian façade with generous single level accommodation comprising of formal living, three bedrooms, light filled extension with well appointed kitchen, and flexible additional living/ dining area. A separate powder room, large family bathroom and atrium with laundry complete the front residence.
The rear of the property opens to a gorgeous courtyard garden, unique second residence and double garage. This double level residence offers a tranquil sanctuary with atrium style sunroom, study/ office, large open plan living and dining area with fully equipped kitchen, second sunroom with balcony, lovely bedroom with bathroom, laundry, powder room, and cleverly designed storage solutions.
The overall package offers a wonderfully flexible floorplan and lifestyle within walking distance to Toorak station, Beatty Ave, High St shops and cafes, trams and a range of schools, it includes intercom entry, reverse cycle heating, air-conditioning, remote blinds, wine cellar, and ample storage. Land size: 473sqm approximately.
Inspection Times
Wed 16th June
1:00PM - 1:30PM

06/16/2021 01:00PM

06/16/2021 01:30PM

Australia/Melbourne

Prized Armadale Location and Lifestyle

INSPECT STRICTLY BY APPOINTMENT BETWEEN ADVERTISED TIMES Delivering a family lifestyle of rare versatility this much loved property is offered for the first time in 40 years. A timeless Victorian home is enhanced by a separate apartment, connected by a central courtyard garden providing a secluded oasis perfect for entertaining. The beautifully private entrance, framed by lush gardens, opens to a classic Victorian façade with generous single level accommodation comprising of formal living, three bedrooms, light filled extension with well appointed kitchen, and flexible additional living/ dining area. A separate powder room, large family bathroom and atrium with laundry complete the front residence. The rear of the property opens to a gorgeous courtyard garden, unique second residence and double garage. This double level residence offers a tranquil sanctuary with atrium style sunroom, study/ office, large open plan living and dining area with fully equipped kitchen, second sunroom with balcony, lovely bedroom with bathroom, laundry, powder room, and cleverly designed storage solutions. The overall package offers a wonderfully flexible floorplan and lifestyle within walking distance to Toorak station, Beatty Ave, High St shops and cafes, trams and a range of schools, it includes intercom entry, reverse cycle heating, air-conditioning, remote blinds, wine cellar, and ample storage. Land size: 473sqm approximately.

50 Northcote Road, Armadale VIC 3143

Sat 19th June
1:00PM - 1:30PM

06/19/2021 01:00PM

06/19/2021 01:30PM

Australia/Melbourne

Prized Armadale Location and Lifestyle

INSPECT STRICTLY BY APPOINTMENT BETWEEN ADVERTISED TIMES Delivering a family lifestyle of rare versatility this much loved property is offered for the first time in 40 years. A timeless Victorian home is enhanced by a separate apartment, connected by a central courtyard garden providing a secluded oasis perfect for entertaining. The beautifully private entrance, framed by lush gardens, opens to a classic Victorian façade with generous single level accommodation comprising of formal living, three bedrooms, light filled extension with well appointed kitchen, and flexible additional living/ dining area. A separate powder room, large family bathroom and atrium with laundry complete the front residence. The rear of the property opens to a gorgeous courtyard garden, unique second residence and double garage. This double level residence offers a tranquil sanctuary with atrium style sunroom, study/ office, large open plan living and dining area with fully equipped kitchen, second sunroom with balcony, lovely bedroom with bathroom, laundry, powder room, and cleverly designed storage solutions. The overall package offers a wonderfully flexible floorplan and lifestyle within walking distance to Toorak station, Beatty Ave, High St shops and cafes, trams and a range of schools, it includes intercom entry, reverse cycle heating, air-conditioning, remote blinds, wine cellar, and ample storage. Land size: 473sqm approximately.

50 Northcote Road, Armadale VIC 3143
50 Northcote Road, Armadale VIC 3143