Kew

3 Hyton Crescent
Private Auction Wednesday 8th December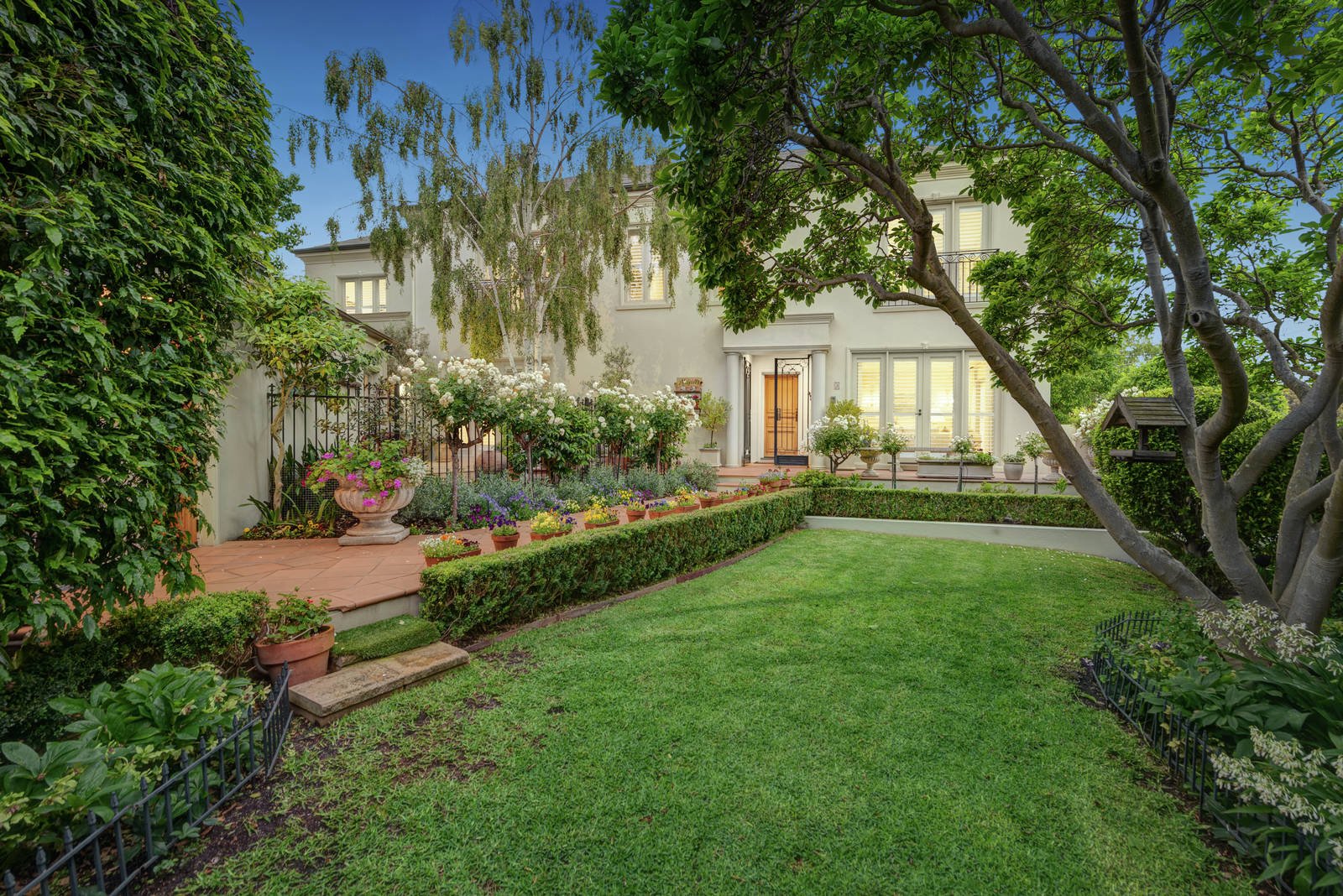 Unrivalled Family Refinement
Bedroom:

4

Bathroom:

4

Carspace:

2
Elegance, excellence and an exceptional position combine to define this highly desirable double-brick family residence, where sights of the city skyline and scope to entertain in indoor-outdoor style are amongst the leading attractions.
A series of superb spaces for living and dining on the downstairs level include refined sitting and dining rooms and a separate domain designed with everyday enjoyment and family meals in mind. Each zone opens individually to Beautifully manicured gardens and outdoor areas, including a Tuscan styled courtyard with Polito pizza oven (now famous from the Block); and all are served by an open-plan kitchen where integrated storage, top-range Meile appliances and a substantial island bench deliver efficiency with a designer edge.
The presence of a downstairs bedroom with its own bathroom adds fifth bedroom flexibility to four principal bedrooms that share the upstairs level with three beautiful bathrooms with recently renovated features and Italian Tiles, including the main bedroom's sophisticated ensuite.
All the dimensions and every detail confirm this home's capacity to accommodate families with un-paralleled success, with a double garage, proximity to Studley Park, the boulevard, walking tracks along the Yarra, Xavier Burke Hall campus, Kew Junction and within 6km to the city. A short walk will also put you on the doorstep of beautiful local restaurants, venues and cafes. An unrivalled family home.
Inspection Times
Sat 4th Dec.
1:00PM - 1:30PM

12/04/2021 01:00PM

12/04/2021 01:30PM

Australia/Melbourne

Unrivalled Family Refinement

Elegance, excellence and an exceptional position combine to define this highly desirable double-brick family residence, where sights of the city skyline and scope to entertain in indoor-outdoor style are amongst the leading attractions. A series of superb spaces for living and dining on the downstairs level include refined sitting and dining rooms and a separate domain designed with everyday enjoyment and family meals in mind. Each zone opens individually to Beautifully manicured gardens and outdoor areas, including a Tuscan styled courtyard with Polito pizza oven (now famous from the Block); and all are served by an open-plan kitchen where integrated storage, top-range Meile appliances and a substantial island bench deliver efficiency with a designer edge. The presence of a downstairs bedroom with its own bathroom adds fifth bedroom flexibility to four principal bedrooms that share the upstairs level with three beautiful bathrooms with recently renovated features and Italian Tiles, including the main bedroom's sophisticated ensuite. All the dimensions and every detail confirm this home's capacity to accommodate families with un-paralleled success, with a double garage, proximity to Studley Park, the boulevard, walking tracks along the Yarra, Xavier Burke Hall campus, Kew Junction and within 6km to the city. A short walk will also put you on the doorstep of beautiful local restaurants, venues and cafes. An unrivalled family home.

3 Hyton Crescent, Kew VIC 3101

Mon 6th Dec.
5:00PM - 5:30PM

12/06/2021 05:00PM

12/06/2021 05:30PM

Australia/Melbourne

Unrivalled Family Refinement

Elegance, excellence and an exceptional position combine to define this highly desirable double-brick family residence, where sights of the city skyline and scope to entertain in indoor-outdoor style are amongst the leading attractions. A series of superb spaces for living and dining on the downstairs level include refined sitting and dining rooms and a separate domain designed with everyday enjoyment and family meals in mind. Each zone opens individually to Beautifully manicured gardens and outdoor areas, including a Tuscan styled courtyard with Polito pizza oven (now famous from the Block); and all are served by an open-plan kitchen where integrated storage, top-range Meile appliances and a substantial island bench deliver efficiency with a designer edge. The presence of a downstairs bedroom with its own bathroom adds fifth bedroom flexibility to four principal bedrooms that share the upstairs level with three beautiful bathrooms with recently renovated features and Italian Tiles, including the main bedroom's sophisticated ensuite. All the dimensions and every detail confirm this home's capacity to accommodate families with un-paralleled success, with a double garage, proximity to Studley Park, the boulevard, walking tracks along the Yarra, Xavier Burke Hall campus, Kew Junction and within 6km to the city. A short walk will also put you on the doorstep of beautiful local restaurants, venues and cafes. An unrivalled family home.

3 Hyton Crescent, Kew VIC 3101
3 Hyton Crescent, Kew VIC 3101