Surrey Hills

29 Erasmus Street
Private Auction Wednesday 31st August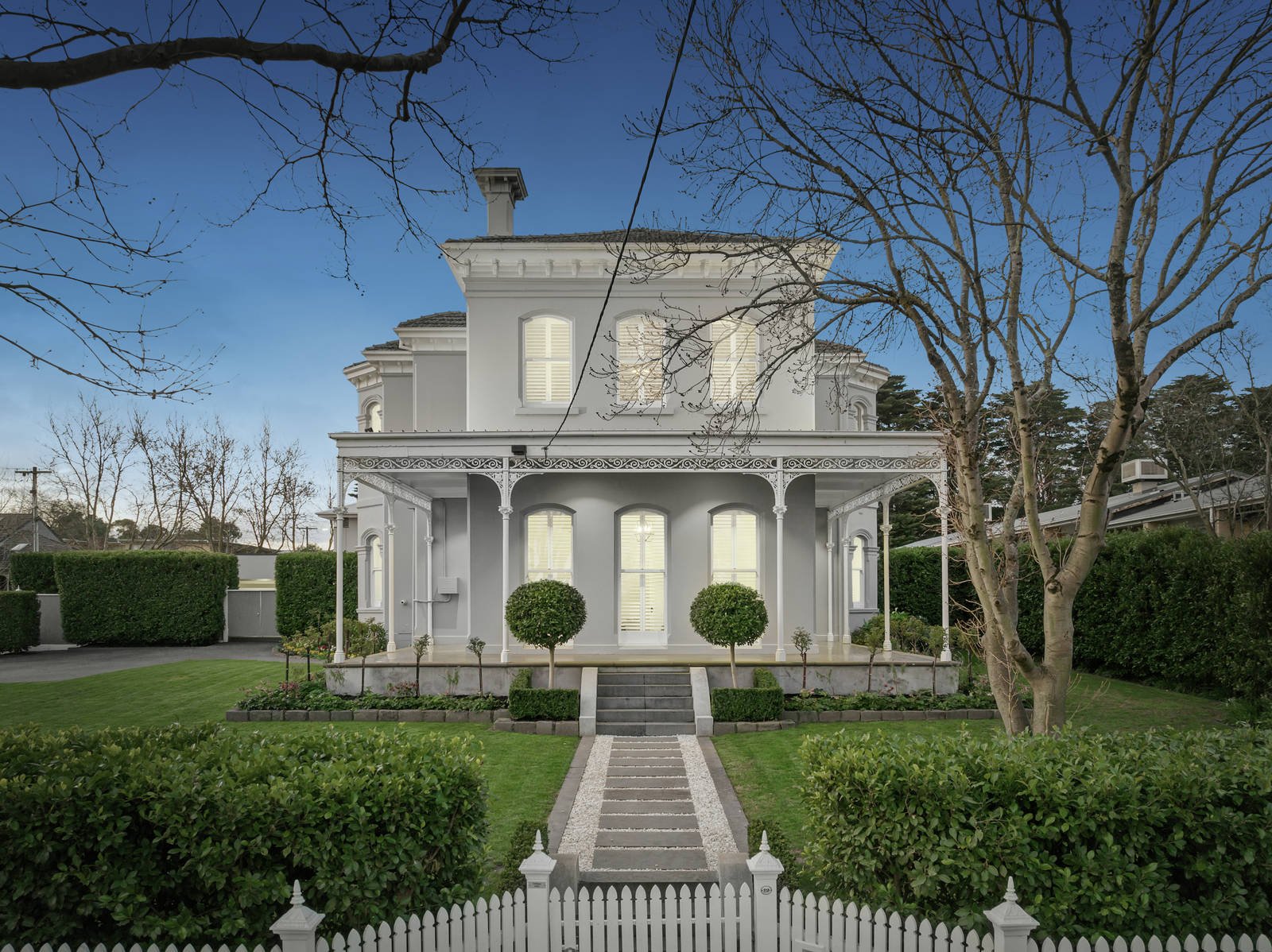 'YIELIMA' c1885
Bedroom:

4

Bathroom:

3

Carspace:

4
Surrey Hills' finest double storey Victorian mansion, few remain today and of these, 'Yielima' is especially significant.
Its classical Italianate beauty is immediately arresting. In addition, this gorgeous, gracious home's current day residential refinement is preceded by a back story that's rich in character. Originally the family address of a successful corn merchant, before becoming a Catholic convent, Yielima's past is as diverse as its present is desirable.
Today, this landmark residence is, once more, a family home of unforgettable allure where period lines frame spaces of consummate contemporary luxury. It's a first class property and a fabulous opportunity!
The elegance of the established designer landscaped gardens set the tone for sublime interior spaces of grand scale that commence with a romantic sitting room and majestic living and dining rooms that each feature an open fire-place and bay windows.
Beyond, the mood seamlessly becomes modern as light-filled living/dining areas are accompanied by a brilliant kitchen with a butler's pantry while aspects over the heated pool and decked surroundings bring a sense of the outside in.
Three staircases, one evocative of Yielima's era, the other a contemporary counterpart, ascend to 4 large upstairs bedrooms surrounding a central study featuring a fitted desk.
The main bedroom's walk-in robe, ensuite and balcony enhance its exceptional luxury - an attribute that's matched by two further bathrooms, one downstairs. Each room is refined, every detail is delightful.
Hydronic heating, cooling, a substantial laundry, walk in wine cellar and a double garage lead Yielima's comprehensive list of additional attractions on a leafy corner offering second frontage to Bentley Street and sought after proximity to schools, parks and shopping options. High ceilings, return verandah and an elevated setting with expansive views will delight.
View the property Microsite
https://my.matterport.com/show/?m=298DbfEiaqN
Inspection Times
Sat 20th Aug.
2:00PM - 2:30PM

08/20/2022 02:00PM

08/20/2022 02:30PM

Australia/Melbourne

'YIELIMA' c1885

Surrey Hills' finest double storey Victorian mansion, few remain today and of these, 'Yielima' is especially significant. Its classical Italianate beauty is immediately arresting. In addition, this gorgeous, gracious home's current day residential refinement is preceded by a back story that's rich in character. Originally the family address of a successful corn merchant, before becoming a Catholic convent, Yielima's past is as diverse as its present is desirable. Today, this landmark residence is, once more, a family home of unforgettable allure where period lines frame spaces of consummate contemporary luxury. It's a first class property and a fabulous opportunity! The elegance of the established designer landscaped gardens set the tone for sublime interior spaces of grand scale that commence with a romantic sitting room and majestic living and dining rooms that each feature an open fire-place and bay windows. Beyond, the mood seamlessly becomes modern as light-filled living/dining areas are accompanied by a brilliant kitchen with a butler's pantry while aspects over the heated pool and decked surroundings bring a sense of the outside in. Three staircases, one evocative of Yielima's era, the other a contemporary counterpart, ascend to 4 large upstairs bedrooms surrounding a central study featuring a fitted desk. The main bedroom's walk-in robe, ensuite and balcony enhance its exceptional luxury - an attribute that's matched by two further bathrooms, one downstairs. Each room is refined, every detail is delightful. Hydronic heating, cooling, a substantial laundry, walk in wine cellar and a double garage lead Yielima's comprehensive list of additional attractions on a leafy corner offering second frontage to Bentley Street and sought after proximity to schools, parks and shopping options. High ceilings, return verandah and an elevated setting with expansive views will delight.

29 Erasmus Street, Surrey Hills VIC 3127

Wed 24th Aug.
12:00PM - 12:30PM

08/24/2022 12:00PM

08/24/2022 12:30PM

Australia/Melbourne

'YIELIMA' c1885

Surrey Hills' finest double storey Victorian mansion, few remain today and of these, 'Yielima' is especially significant. Its classical Italianate beauty is immediately arresting. In addition, this gorgeous, gracious home's current day residential refinement is preceded by a back story that's rich in character. Originally the family address of a successful corn merchant, before becoming a Catholic convent, Yielima's past is as diverse as its present is desirable. Today, this landmark residence is, once more, a family home of unforgettable allure where period lines frame spaces of consummate contemporary luxury. It's a first class property and a fabulous opportunity! The elegance of the established designer landscaped gardens set the tone for sublime interior spaces of grand scale that commence with a romantic sitting room and majestic living and dining rooms that each feature an open fire-place and bay windows. Beyond, the mood seamlessly becomes modern as light-filled living/dining areas are accompanied by a brilliant kitchen with a butler's pantry while aspects over the heated pool and decked surroundings bring a sense of the outside in. Three staircases, one evocative of Yielima's era, the other a contemporary counterpart, ascend to 4 large upstairs bedrooms surrounding a central study featuring a fitted desk. The main bedroom's walk-in robe, ensuite and balcony enhance its exceptional luxury - an attribute that's matched by two further bathrooms, one downstairs. Each room is refined, every detail is delightful. Hydronic heating, cooling, a substantial laundry, walk in wine cellar and a double garage lead Yielima's comprehensive list of additional attractions on a leafy corner offering second frontage to Bentley Street and sought after proximity to schools, parks and shopping options. High ceilings, return verandah and an elevated setting with expansive views will delight.

29 Erasmus Street, Surrey Hills VIC 3127

Wed 24th Aug.
5:30PM - 6:00PM

08/24/2022 05:30PM

08/24/2022 06:00PM

Australia/Melbourne

'YIELIMA' c1885

Surrey Hills' finest double storey Victorian mansion, few remain today and of these, 'Yielima' is especially significant. Its classical Italianate beauty is immediately arresting. In addition, this gorgeous, gracious home's current day residential refinement is preceded by a back story that's rich in character. Originally the family address of a successful corn merchant, before becoming a Catholic convent, Yielima's past is as diverse as its present is desirable. Today, this landmark residence is, once more, a family home of unforgettable allure where period lines frame spaces of consummate contemporary luxury. It's a first class property and a fabulous opportunity! The elegance of the established designer landscaped gardens set the tone for sublime interior spaces of grand scale that commence with a romantic sitting room and majestic living and dining rooms that each feature an open fire-place and bay windows. Beyond, the mood seamlessly becomes modern as light-filled living/dining areas are accompanied by a brilliant kitchen with a butler's pantry while aspects over the heated pool and decked surroundings bring a sense of the outside in. Three staircases, one evocative of Yielima's era, the other a contemporary counterpart, ascend to 4 large upstairs bedrooms surrounding a central study featuring a fitted desk. The main bedroom's walk-in robe, ensuite and balcony enhance its exceptional luxury - an attribute that's matched by two further bathrooms, one downstairs. Each room is refined, every detail is delightful. Hydronic heating, cooling, a substantial laundry, walk in wine cellar and a double garage lead Yielima's comprehensive list of additional attractions on a leafy corner offering second frontage to Bentley Street and sought after proximity to schools, parks and shopping options. High ceilings, return verandah and an elevated setting with expansive views will delight.

29 Erasmus Street, Surrey Hills VIC 3127

Sat 27th Aug.
1:00PM - 1:30PM

08/27/2022 01:00PM

08/27/2022 01:30PM

Australia/Melbourne

'YIELIMA' c1885

Surrey Hills' finest double storey Victorian mansion, few remain today and of these, 'Yielima' is especially significant. Its classical Italianate beauty is immediately arresting. In addition, this gorgeous, gracious home's current day residential refinement is preceded by a back story that's rich in character. Originally the family address of a successful corn merchant, before becoming a Catholic convent, Yielima's past is as diverse as its present is desirable. Today, this landmark residence is, once more, a family home of unforgettable allure where period lines frame spaces of consummate contemporary luxury. It's a first class property and a fabulous opportunity! The elegance of the established designer landscaped gardens set the tone for sublime interior spaces of grand scale that commence with a romantic sitting room and majestic living and dining rooms that each feature an open fire-place and bay windows. Beyond, the mood seamlessly becomes modern as light-filled living/dining areas are accompanied by a brilliant kitchen with a butler's pantry while aspects over the heated pool and decked surroundings bring a sense of the outside in. Three staircases, one evocative of Yielima's era, the other a contemporary counterpart, ascend to 4 large upstairs bedrooms surrounding a central study featuring a fitted desk. The main bedroom's walk-in robe, ensuite and balcony enhance its exceptional luxury - an attribute that's matched by two further bathrooms, one downstairs. Each room is refined, every detail is delightful. Hydronic heating, cooling, a substantial laundry, walk in wine cellar and a double garage lead Yielima's comprehensive list of additional attractions on a leafy corner offering second frontage to Bentley Street and sought after proximity to schools, parks and shopping options. High ceilings, return verandah and an elevated setting with expansive views will delight.

29 Erasmus Street, Surrey Hills VIC 3127
29 Erasmus Street, Surrey Hills VIC 3127