Hawthorn East

25 Clive Road
Private Auction Tuesday 14th December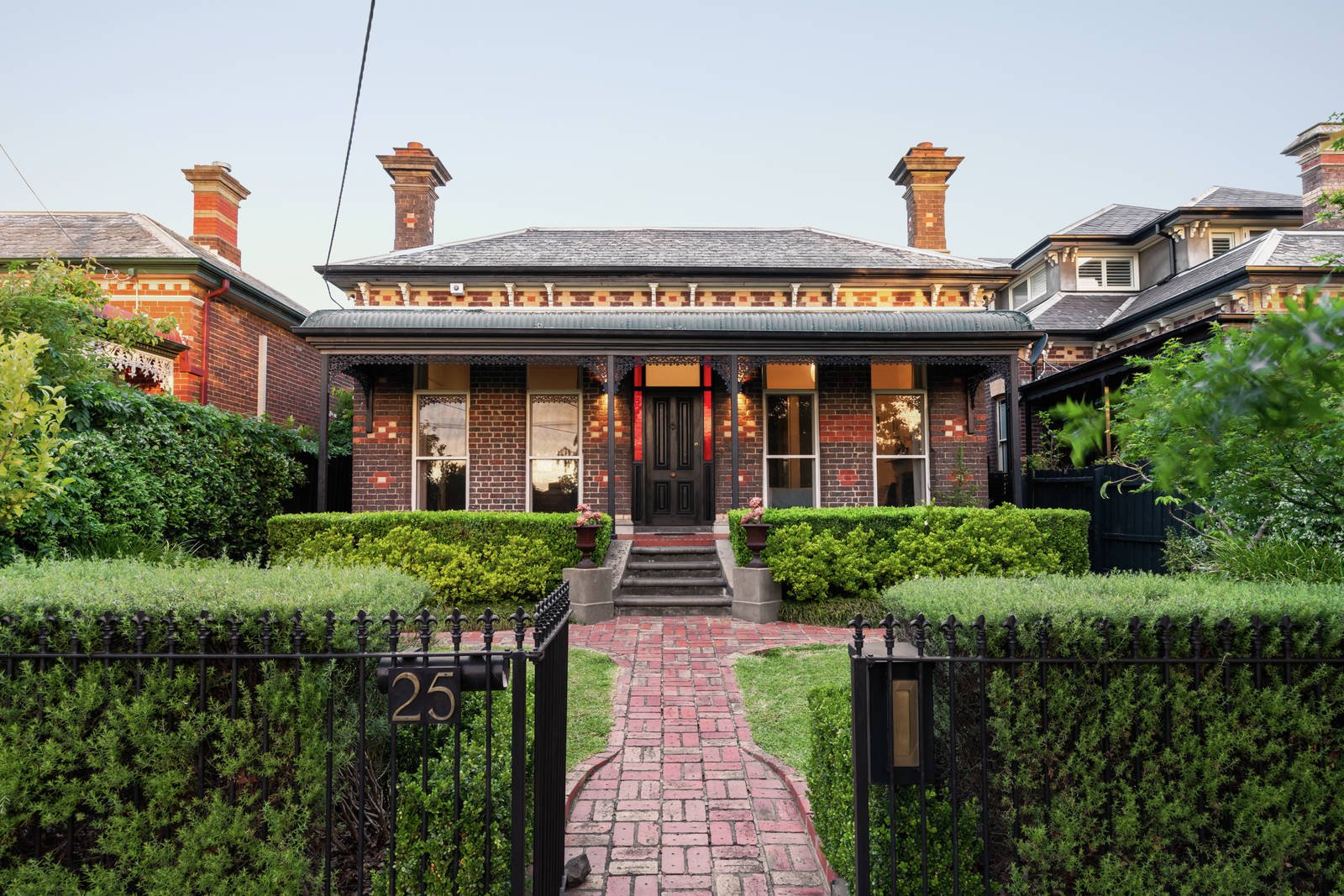 Traditional Victorian Meets Award Winning Architect
Bedroom:

4

Bathroom:

2

Carspace:

2
Inspections by private appointment.
Open for Inspections are for those who are fully vaccinated in accordance with the Victorian Government regulations. Should you be unvaccinated, please contact us to organise your private inspection.
Meticulously designed by award winning architects McBride Charles Ryan, and landscape architects Bold Simplicity, this renovated Victorian residence in a highly desired Hawthorn East Street, delivers a luxurious living environment throughout.
The property's desirability and quality renovation are well recognized, featuring on the cover of "The Ultimate Urban Makeover" and in numerous house and garden publications.
Opulent period features, including marble fireplaces, slate roof and tessellated tiles, blend perfectly with premium contemporary appliances, fittings and fixtures, which include zoned hydronic heating and refrigerated cooling, surround sound, automatic blinds, solar hot water, rainwater tanks and an automated watering system.
A magnificent expansive family domain includes a living room featuring a Jetmaster fireplace, a large dining area, Corian kitchen benchtops and Smeg appliances with walk in pantry and separate office space. All overlooked by two separate outdoor living spaces viewed via vast double-glazed sliding windows. The serine private garden is framed by a slate stacked wall forming the remote-control double garage with ROW. A large north-oriented deck is entered via a large sliding glass wall, allowing the seamless transformation of an indoor/outdoor space. A ground floor master bedroom with stunning walk-in robe and en-suite, formal living, fitted study, powder room and generous laundry with ample storage. Upstairs features 3 bedrooms (BIRs and built-in desks and shelving) with a family bathroom and separate toilet.
Tooronga Road shops, Camberwell Junction, Rivoli cinema, schools, parks and public transport are all within short walking distance. This perfect blend of a modernised Victorian in a quiet setting is not to be missed.
Inspection Times
Thu 2nd Dec.
12:00PM - 12:30PM

12/02/2021 12:00PM

12/02/2021 12:30PM

Australia/Melbourne

Traditional Victorian Meets Award Winning Architect

Inspections by private appointment. Open for Inspections are for those who are fully vaccinated in accordance with the Victorian Government regulations. Should you be unvaccinated, please contact us to organise your private inspection. Meticulously designed by award winning architects McBride Charles Ryan, and landscape architects Bold Simplicity, this renovated Victorian residence in a highly desired Hawthorn East Street, delivers a luxurious living environment throughout. The property's desirability and quality renovation are well recognized, featuring on the cover of "The Ultimate Urban Makeover" and in numerous house and garden publications. Opulent period features, including marble fireplaces, slate roof and tessellated tiles, blend perfectly with premium contemporary appliances, fittings and fixtures, which include zoned hydronic heating and refrigerated cooling, surround sound, automatic blinds, solar hot water, rainwater tanks and an automated watering system. A magnificent expansive family domain includes a living room featuring a Jetmaster fireplace, a large dining area, Corian kitchen benchtops and Smeg appliances with walk in pantry and separate office space. All overlooked by two separate outdoor living spaces viewed via vast double-glazed sliding windows. The serine private garden is framed by a slate stacked wall forming the remote-control double garage with ROW. A large north-oriented deck is entered via a large sliding glass wall, allowing the seamless transformation of an indoor/outdoor space. A ground floor master bedroom with stunning walk-in robe and en-suite, formal living, fitted study, powder room and generous laundry with ample storage. Upstairs features 3 bedrooms (BIRs and built-in desks and shelving) with a family bathroom and separate toilet. Tooronga Road shops, Camberwell Junction, Rivoli cinema, schools, parks and public transport are all within short walking distance. This perfect blend of a modernised Victorian in a quiet setting is not to be missed.

25 Clive Road, Hawthorn East VIC 3123

Sat 4th Dec.
2:00PM - 2:30PM

12/04/2021 02:00PM

12/04/2021 02:30PM

Australia/Melbourne

Traditional Victorian Meets Award Winning Architect

Inspections by private appointment. Open for Inspections are for those who are fully vaccinated in accordance with the Victorian Government regulations. Should you be unvaccinated, please contact us to organise your private inspection. Meticulously designed by award winning architects McBride Charles Ryan, and landscape architects Bold Simplicity, this renovated Victorian residence in a highly desired Hawthorn East Street, delivers a luxurious living environment throughout. The property's desirability and quality renovation are well recognized, featuring on the cover of "The Ultimate Urban Makeover" and in numerous house and garden publications. Opulent period features, including marble fireplaces, slate roof and tessellated tiles, blend perfectly with premium contemporary appliances, fittings and fixtures, which include zoned hydronic heating and refrigerated cooling, surround sound, automatic blinds, solar hot water, rainwater tanks and an automated watering system. A magnificent expansive family domain includes a living room featuring a Jetmaster fireplace, a large dining area, Corian kitchen benchtops and Smeg appliances with walk in pantry and separate office space. All overlooked by two separate outdoor living spaces viewed via vast double-glazed sliding windows. The serine private garden is framed by a slate stacked wall forming the remote-control double garage with ROW. A large north-oriented deck is entered via a large sliding glass wall, allowing the seamless transformation of an indoor/outdoor space. A ground floor master bedroom with stunning walk-in robe and en-suite, formal living, fitted study, powder room and generous laundry with ample storage. Upstairs features 3 bedrooms (BIRs and built-in desks and shelving) with a family bathroom and separate toilet. Tooronga Road shops, Camberwell Junction, Rivoli cinema, schools, parks and public transport are all within short walking distance. This perfect blend of a modernised Victorian in a quiet setting is not to be missed.

25 Clive Road, Hawthorn East VIC 3123

Thu 9th Dec.
12:00PM - 12:30PM

12/09/2021 12:00PM

12/09/2021 12:30PM

Australia/Melbourne

Traditional Victorian Meets Award Winning Architect

Inspections by private appointment. Open for Inspections are for those who are fully vaccinated in accordance with the Victorian Government regulations. Should you be unvaccinated, please contact us to organise your private inspection. Meticulously designed by award winning architects McBride Charles Ryan, and landscape architects Bold Simplicity, this renovated Victorian residence in a highly desired Hawthorn East Street, delivers a luxurious living environment throughout. The property's desirability and quality renovation are well recognized, featuring on the cover of "The Ultimate Urban Makeover" and in numerous house and garden publications. Opulent period features, including marble fireplaces, slate roof and tessellated tiles, blend perfectly with premium contemporary appliances, fittings and fixtures, which include zoned hydronic heating and refrigerated cooling, surround sound, automatic blinds, solar hot water, rainwater tanks and an automated watering system. A magnificent expansive family domain includes a living room featuring a Jetmaster fireplace, a large dining area, Corian kitchen benchtops and Smeg appliances with walk in pantry and separate office space. All overlooked by two separate outdoor living spaces viewed via vast double-glazed sliding windows. The serine private garden is framed by a slate stacked wall forming the remote-control double garage with ROW. A large north-oriented deck is entered via a large sliding glass wall, allowing the seamless transformation of an indoor/outdoor space. A ground floor master bedroom with stunning walk-in robe and en-suite, formal living, fitted study, powder room and generous laundry with ample storage. Upstairs features 3 bedrooms (BIRs and built-in desks and shelving) with a family bathroom and separate toilet. Tooronga Road shops, Camberwell Junction, Rivoli cinema, schools, parks and public transport are all within short walking distance. This perfect blend of a modernised Victorian in a quiet setting is not to be missed.

25 Clive Road, Hawthorn East VIC 3123

Sat 11th Dec.
10:00AM - 10:30AM

12/11/2021 10:00AM

12/11/2021 10:30AM

Australia/Melbourne

Traditional Victorian Meets Award Winning Architect

Inspections by private appointment. Open for Inspections are for those who are fully vaccinated in accordance with the Victorian Government regulations. Should you be unvaccinated, please contact us to organise your private inspection. Meticulously designed by award winning architects McBride Charles Ryan, and landscape architects Bold Simplicity, this renovated Victorian residence in a highly desired Hawthorn East Street, delivers a luxurious living environment throughout. The property's desirability and quality renovation are well recognized, featuring on the cover of "The Ultimate Urban Makeover" and in numerous house and garden publications. Opulent period features, including marble fireplaces, slate roof and tessellated tiles, blend perfectly with premium contemporary appliances, fittings and fixtures, which include zoned hydronic heating and refrigerated cooling, surround sound, automatic blinds, solar hot water, rainwater tanks and an automated watering system. A magnificent expansive family domain includes a living room featuring a Jetmaster fireplace, a large dining area, Corian kitchen benchtops and Smeg appliances with walk in pantry and separate office space. All overlooked by two separate outdoor living spaces viewed via vast double-glazed sliding windows. The serine private garden is framed by a slate stacked wall forming the remote-control double garage with ROW. A large north-oriented deck is entered via a large sliding glass wall, allowing the seamless transformation of an indoor/outdoor space. A ground floor master bedroom with stunning walk-in robe and en-suite, formal living, fitted study, powder room and generous laundry with ample storage. Upstairs features 3 bedrooms (BIRs and built-in desks and shelving) with a family bathroom and separate toilet. Tooronga Road shops, Camberwell Junction, Rivoli cinema, schools, parks and public transport are all within short walking distance. This perfect blend of a modernised Victorian in a quiet setting is not to be missed.

25 Clive Road, Hawthorn East VIC 3123

Mon 13th Dec.
5:00PM - 5:30PM

12/13/2021 05:00PM

12/13/2021 05:30PM

Australia/Melbourne

Traditional Victorian Meets Award Winning Architect

Inspections by private appointment. Open for Inspections are for those who are fully vaccinated in accordance with the Victorian Government regulations. Should you be unvaccinated, please contact us to organise your private inspection. Meticulously designed by award winning architects McBride Charles Ryan, and landscape architects Bold Simplicity, this renovated Victorian residence in a highly desired Hawthorn East Street, delivers a luxurious living environment throughout. The property's desirability and quality renovation are well recognized, featuring on the cover of "The Ultimate Urban Makeover" and in numerous house and garden publications. Opulent period features, including marble fireplaces, slate roof and tessellated tiles, blend perfectly with premium contemporary appliances, fittings and fixtures, which include zoned hydronic heating and refrigerated cooling, surround sound, automatic blinds, solar hot water, rainwater tanks and an automated watering system. A magnificent expansive family domain includes a living room featuring a Jetmaster fireplace, a large dining area, Corian kitchen benchtops and Smeg appliances with walk in pantry and separate office space. All overlooked by two separate outdoor living spaces viewed via vast double-glazed sliding windows. The serine private garden is framed by a slate stacked wall forming the remote-control double garage with ROW. A large north-oriented deck is entered via a large sliding glass wall, allowing the seamless transformation of an indoor/outdoor space. A ground floor master bedroom with stunning walk-in robe and en-suite, formal living, fitted study, powder room and generous laundry with ample storage. Upstairs features 3 bedrooms (BIRs and built-in desks and shelving) with a family bathroom and separate toilet. Tooronga Road shops, Camberwell Junction, Rivoli cinema, schools, parks and public transport are all within short walking distance. This perfect blend of a modernised Victorian in a quiet setting is not to be missed.

25 Clive Road, Hawthorn East VIC 3123
25 Clive Road, Hawthorn East VIC 3123