Balwyn

2/15 Kireep Road
Auction Sat December 04, 2021 10:30 AM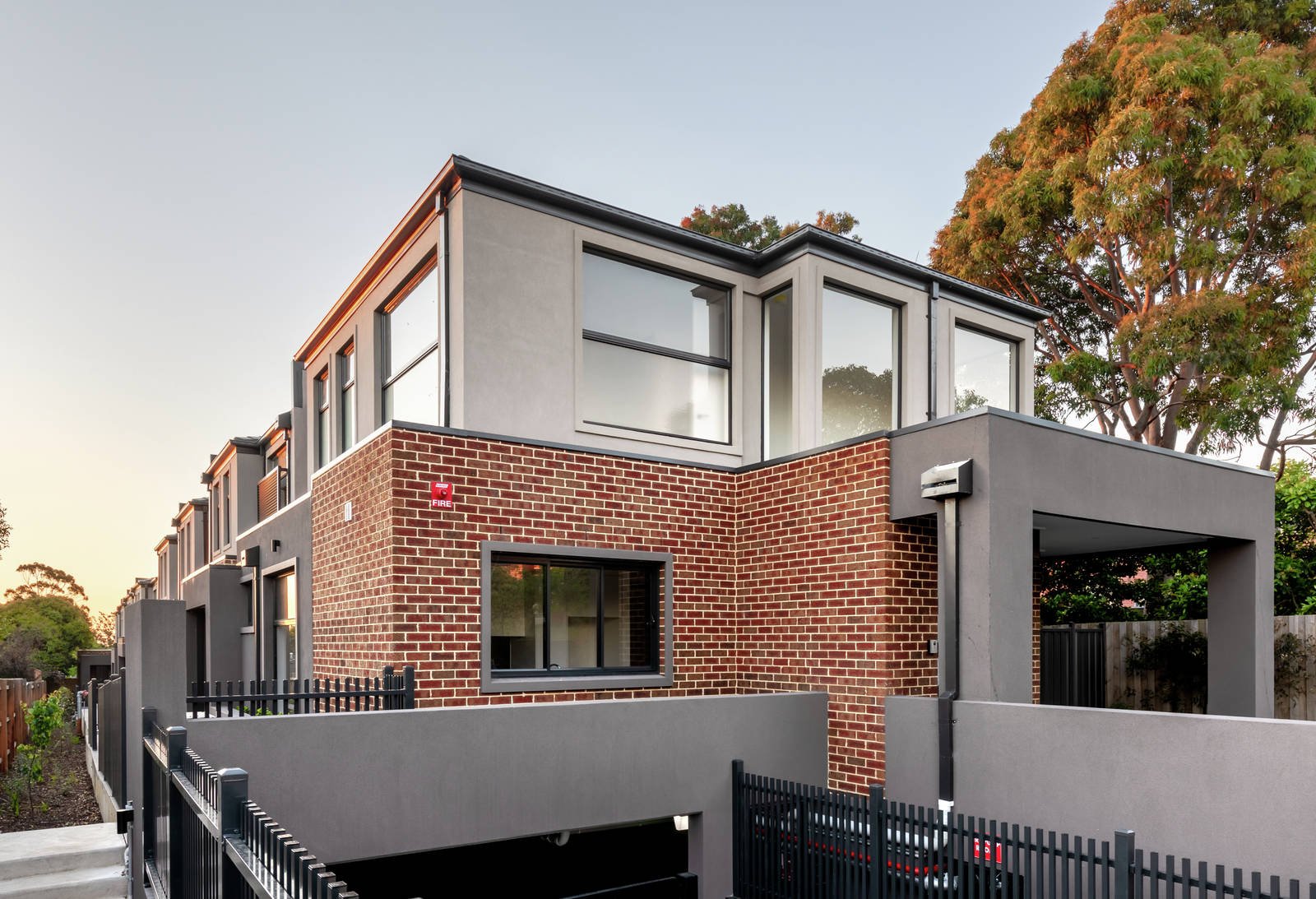 Perfect Dual Level Proportions
Bedroom:

3

Bathroom:

2

Carspace:

2
A dual level design that brings superb contemporary quality to a Balwyn location offering outstanding lifestyle advantages, this beautifully appointed residence's luxurious spaces are complemented by lock up and leave ease.
The clean lines, desirable dimensions and oak floors of the living/dining area are accompanied by an exceptional open-plan kitchen before sliding glass doors deliver seamless access to a precisely landscaped paved courtyard.
An upstairs level dedicated to alluring accommodation includes a main bedroom with an elegant ensuite, two additional double bedrooms and a central bathroom where the fittings and finishes are first class.
Heating and cooling, a downstairs powder room, security system and basement garaging for two cars complement a property that captures exactly the sense of style and space we seek today in a tree lined setting that will be popular, positive and in demand in any era.
Balwyn High School zoning, proximity to Whitehorse Road shopping options, great cafes, the number 48 and 109 tram routes, Beckett Park and Maranoa Botanic Gardens reflect the appeal of an address providing refined perfection for owner-occupiers and rewarding prospects for investors.
Inspection Times
Thu 2nd Dec.
2:00PM - 2:30PM

12/02/2021 02:00PM

12/02/2021 02:30PM

Australia/Melbourne

Perfect Dual Level Proportions

A dual level design that brings superb contemporary quality to a Balwyn location offering outstanding lifestyle advantages, this beautifully appointed residence's luxurious spaces are complemented by lock up and leave ease. The clean lines, desirable dimensions and oak floors of the living/dining area are accompanied by an exceptional open-plan kitchen before sliding glass doors deliver seamless access to a precisely landscaped paved courtyard. An upstairs level dedicated to alluring accommodation includes a main bedroom with an elegant ensuite, two additional double bedrooms and a central bathroom where the fittings and finishes are first class. Heating and cooling, a downstairs powder room, security system and basement garaging for two cars complement a property that captures exactly the sense of style and space we seek today in a tree lined setting that will be popular, positive and in demand in any era. Balwyn High School zoning, proximity to Whitehorse Road shopping options, great cafes, the number 48 and 109 tram routes, Beckett Park and Maranoa Botanic Gardens reflect the appeal of an address providing refined perfection for owner-occupiers and rewarding prospects for investors.

2/15 Kireep Road, Balwyn VIC 3103

Sat 4th Dec.
10:00AM - 10:30AM

12/04/2021 10:00AM

12/04/2021 10:30AM

Australia/Melbourne

Perfect Dual Level Proportions

A dual level design that brings superb contemporary quality to a Balwyn location offering outstanding lifestyle advantages, this beautifully appointed residence's luxurious spaces are complemented by lock up and leave ease. The clean lines, desirable dimensions and oak floors of the living/dining area are accompanied by an exceptional open-plan kitchen before sliding glass doors deliver seamless access to a precisely landscaped paved courtyard. An upstairs level dedicated to alluring accommodation includes a main bedroom with an elegant ensuite, two additional double bedrooms and a central bathroom where the fittings and finishes are first class. Heating and cooling, a downstairs powder room, security system and basement garaging for two cars complement a property that captures exactly the sense of style and space we seek today in a tree lined setting that will be popular, positive and in demand in any era. Balwyn High School zoning, proximity to Whitehorse Road shopping options, great cafes, the number 48 and 109 tram routes, Beckett Park and Maranoa Botanic Gardens reflect the appeal of an address providing refined perfection for owner-occupiers and rewarding prospects for investors.

2/15 Kireep Road, Balwyn VIC 3103
Auction Times
Sat 4th Dec.
10:30AM

12/04/2021 10:30AM

Australia/Melbourne

Auction - Perfect Dual Level Proportions

A dual level design that brings superb contemporary quality to a Balwyn location offering outstanding lifestyle advantages, this beautifully appointed residence's luxurious spaces are complemented by lock up and leave ease. The clean lines, desirable dimensions and oak floors of the living/dining area are accompanied by an exceptional open-plan kitchen before sliding glass doors deliver seamless access to a precisely landscaped paved courtyard. An upstairs level dedicated to alluring accommodation includes a main bedroom with an elegant ensuite, two additional double bedrooms and a central bathroom where the fittings and finishes are first class. Heating and cooling, a downstairs powder room, security system and basement garaging for two cars complement a property that captures exactly the sense of style and space we seek today in a tree lined setting that will be popular, positive and in demand in any era. Balwyn High School zoning, proximity to Whitehorse Road shopping options, great cafes, the number 48 and 109 tram routes, Beckett Park and Maranoa Botanic Gardens reflect the appeal of an address providing refined perfection for owner-occupiers and rewarding prospects for investors.

2/15 Kireep Road, Balwyn VIC 3103
2/15 Kireep Road, Balwyn VIC 3103