Armadale

2 Cambridge Street
Private Auction Wednesday 10th March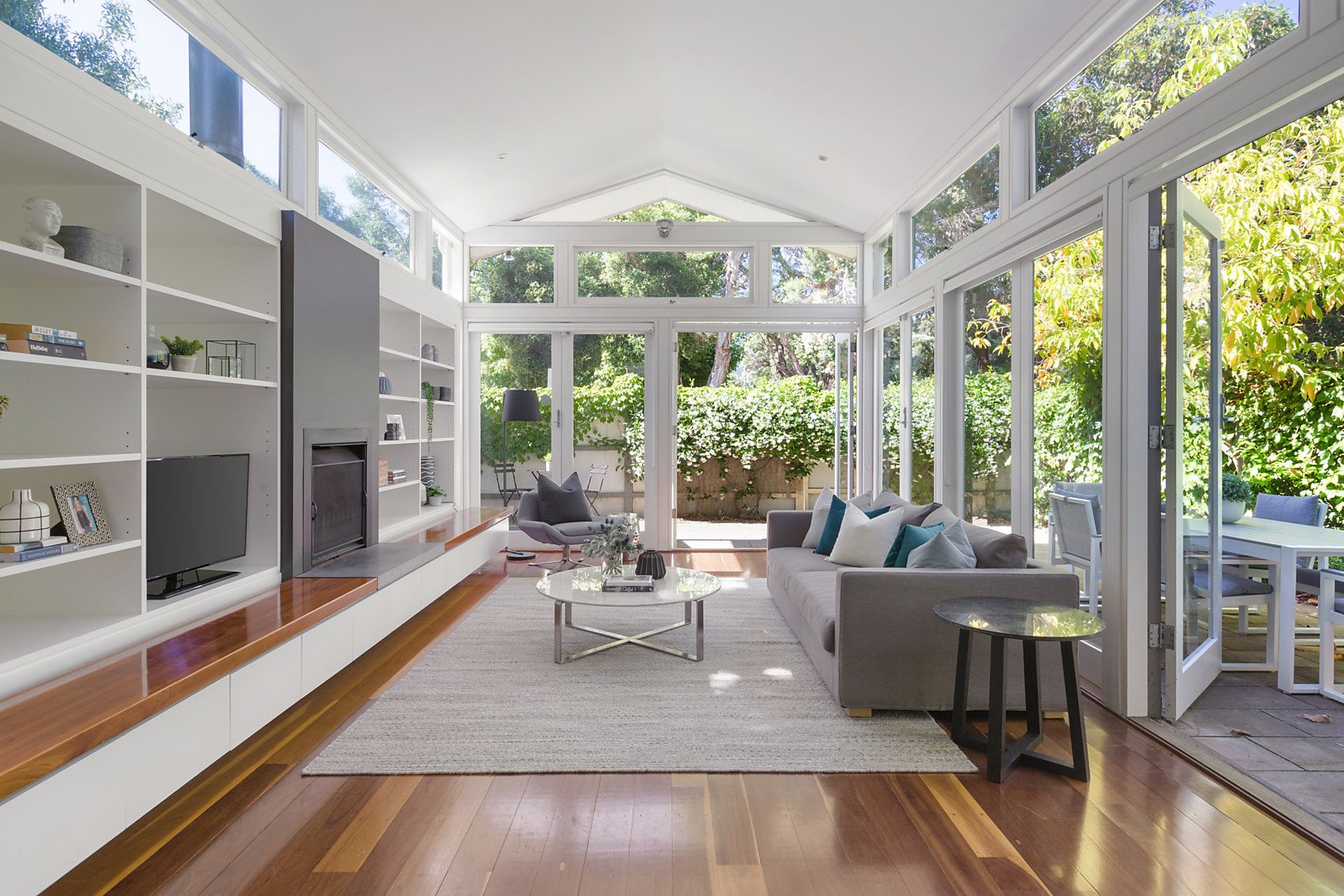 Impressively Renovated, Perfect Location. Price Guide: $2,300,000 - $2,530,000
Bedroom:

3

Bathroom:

2

Carspace:

1
This impressive and beautifully renovated free-standing residence makes the utmost of such a coveted locale. Beyond the beauty of the streetscape, this home is the perfect template for a couple, downsizer, or young family ready to take advantage of this incredibly convenient lifestyle location. Cambridge Street's perfectly preserved mid 1880s aesthetic with northern rear aspect is further enhanced by the leafy beauty of its backdrop to Armadale Reserve.
Two downstairs bedrooms, one with air-conditioning and both accompanied by built-in robes, lead along the elegant hall to a stylish central bathroom. Upon entering the living and dining areas, you are instantly provided with the most stunning light filled spaces designed to capture to take advantage of the greenery and outlook of Armadale Reserve to the north. The spacious living area with open timber fireplace, is complemented by an open-plan kitchen featuring stone surfaces, a generous island bench with breakfast bar and features European appliances and under stair storage. Furthermore, the living / dining area perfectly interfaces with the sun-drenched external courtyard, perfect for entertaining or enjoying all to yourself.
Upstairs presents a large and alluring retreat, with the main bedroom's impressive size, spacious ensuite and walk-in robe are matched by good light, air-conditioning, large robes, roof storage access and outlooks across the Reserve. Furthermore, there is plenty of space for a desk within the master bedroom.
Enjoying the flexibility of a second street frontage to Sutherland Road, access to a large off-street secure car park, completes a property that's quintessentially Armadale. Convenient walking access to High Street shopping, trams and Armadale station.
Inspection Times
Thu 25th Feb.
1:00PM - 1:30PM

02/25/2021 01:00PM

02/25/2021 01:30PM

Australia/Melbourne

Impressively Renovated, Perfect Location. Price Guide: $2,300,000 - $2,530,000

This impressive and beautifully renovated free-standing residence makes the utmost of such a coveted locale. Beyond the beauty of the streetscape, this home is the perfect template for a couple, downsizer, or young family ready to take advantage of this incredibly convenient lifestyle location. Cambridge Street's perfectly preserved mid 1880s aesthetic with northern rear aspect is further enhanced by the leafy beauty of its backdrop to Armadale Reserve. Two downstairs bedrooms, one with air-conditioning and both accompanied by built-in robes, lead along the elegant hall to a stylish central bathroom. Upon entering the living and dining areas, you are instantly provided with the most stunning light filled spaces designed to capture to take advantage of the greenery and outlook of Armadale Reserve to the north. The spacious living area with open timber fireplace, is complemented by an open-plan kitchen featuring stone surfaces, a generous island bench with breakfast bar and features European appliances and under stair storage. Furthermore, the living / dining area perfectly interfaces with the sun-drenched external courtyard, perfect for entertaining or enjoying all to yourself. Upstairs presents a large and alluring retreat, with the main bedroom's impressive size, spacious ensuite and walk-in robe are matched by good light, air-conditioning, large robes, roof storage access and outlooks across the Reserve. Furthermore, there is plenty of space for a desk within the master bedroom. Enjoying the flexibility of a second street frontage to Sutherland Road, access to a large off-street secure car park, completes a property that's quintessentially Armadale. Convenient walking access to High Street shopping, trams and Armadale station.

2 Cambridge Street, Armadale VIC 3143

Sat 27th Feb.
1:00PM - 1:30PM

02/27/2021 01:00PM

02/27/2021 01:30PM

Australia/Melbourne

Impressively Renovated, Perfect Location. Price Guide: $2,300,000 - $2,530,000

This impressive and beautifully renovated free-standing residence makes the utmost of such a coveted locale. Beyond the beauty of the streetscape, this home is the perfect template for a couple, downsizer, or young family ready to take advantage of this incredibly convenient lifestyle location. Cambridge Street's perfectly preserved mid 1880s aesthetic with northern rear aspect is further enhanced by the leafy beauty of its backdrop to Armadale Reserve. Two downstairs bedrooms, one with air-conditioning and both accompanied by built-in robes, lead along the elegant hall to a stylish central bathroom. Upon entering the living and dining areas, you are instantly provided with the most stunning light filled spaces designed to capture to take advantage of the greenery and outlook of Armadale Reserve to the north. The spacious living area with open timber fireplace, is complemented by an open-plan kitchen featuring stone surfaces, a generous island bench with breakfast bar and features European appliances and under stair storage. Furthermore, the living / dining area perfectly interfaces with the sun-drenched external courtyard, perfect for entertaining or enjoying all to yourself. Upstairs presents a large and alluring retreat, with the main bedroom's impressive size, spacious ensuite and walk-in robe are matched by good light, air-conditioning, large robes, roof storage access and outlooks across the Reserve. Furthermore, there is plenty of space for a desk within the master bedroom. Enjoying the flexibility of a second street frontage to Sutherland Road, access to a large off-street secure car park, completes a property that's quintessentially Armadale. Convenient walking access to High Street shopping, trams and Armadale station.

2 Cambridge Street, Armadale VIC 3143

Thu 4th March
1:00PM - 1:40PM

03/04/2021 01:00PM

03/04/2021 01:40PM

Australia/Melbourne

Impressively Renovated, Perfect Location. Price Guide: $2,300,000 - $2,530,000

This impressive and beautifully renovated free-standing residence makes the utmost of such a coveted locale. Beyond the beauty of the streetscape, this home is the perfect template for a couple, downsizer, or young family ready to take advantage of this incredibly convenient lifestyle location. Cambridge Street's perfectly preserved mid 1880s aesthetic with northern rear aspect is further enhanced by the leafy beauty of its backdrop to Armadale Reserve. Two downstairs bedrooms, one with air-conditioning and both accompanied by built-in robes, lead along the elegant hall to a stylish central bathroom. Upon entering the living and dining areas, you are instantly provided with the most stunning light filled spaces designed to capture to take advantage of the greenery and outlook of Armadale Reserve to the north. The spacious living area with open timber fireplace, is complemented by an open-plan kitchen featuring stone surfaces, a generous island bench with breakfast bar and features European appliances and under stair storage. Furthermore, the living / dining area perfectly interfaces with the sun-drenched external courtyard, perfect for entertaining or enjoying all to yourself. Upstairs presents a large and alluring retreat, with the main bedroom's impressive size, spacious ensuite and walk-in robe are matched by good light, air-conditioning, large robes, roof storage access and outlooks across the Reserve. Furthermore, there is plenty of space for a desk within the master bedroom. Enjoying the flexibility of a second street frontage to Sutherland Road, access to a large off-street secure car park, completes a property that's quintessentially Armadale. Convenient walking access to High Street shopping, trams and Armadale station.

2 Cambridge Street, Armadale VIC 3143

Sat 6th March
11:00AM - 11:30AM

03/06/2021 11:00AM

03/06/2021 11:30AM

Australia/Melbourne

Impressively Renovated, Perfect Location. Price Guide: $2,300,000 - $2,530,000

This impressive and beautifully renovated free-standing residence makes the utmost of such a coveted locale. Beyond the beauty of the streetscape, this home is the perfect template for a couple, downsizer, or young family ready to take advantage of this incredibly convenient lifestyle location. Cambridge Street's perfectly preserved mid 1880s aesthetic with northern rear aspect is further enhanced by the leafy beauty of its backdrop to Armadale Reserve. Two downstairs bedrooms, one with air-conditioning and both accompanied by built-in robes, lead along the elegant hall to a stylish central bathroom. Upon entering the living and dining areas, you are instantly provided with the most stunning light filled spaces designed to capture to take advantage of the greenery and outlook of Armadale Reserve to the north. The spacious living area with open timber fireplace, is complemented by an open-plan kitchen featuring stone surfaces, a generous island bench with breakfast bar and features European appliances and under stair storage. Furthermore, the living / dining area perfectly interfaces with the sun-drenched external courtyard, perfect for entertaining or enjoying all to yourself. Upstairs presents a large and alluring retreat, with the main bedroom's impressive size, spacious ensuite and walk-in robe are matched by good light, air-conditioning, large robes, roof storage access and outlooks across the Reserve. Furthermore, there is plenty of space for a desk within the master bedroom. Enjoying the flexibility of a second street frontage to Sutherland Road, access to a large off-street secure car park, completes a property that's quintessentially Armadale. Convenient walking access to High Street shopping, trams and Armadale station.

2 Cambridge Street, Armadale VIC 3143
2 Cambridge Street, Armadale VIC 3143