East Melbourne

1/36 Clarendon Street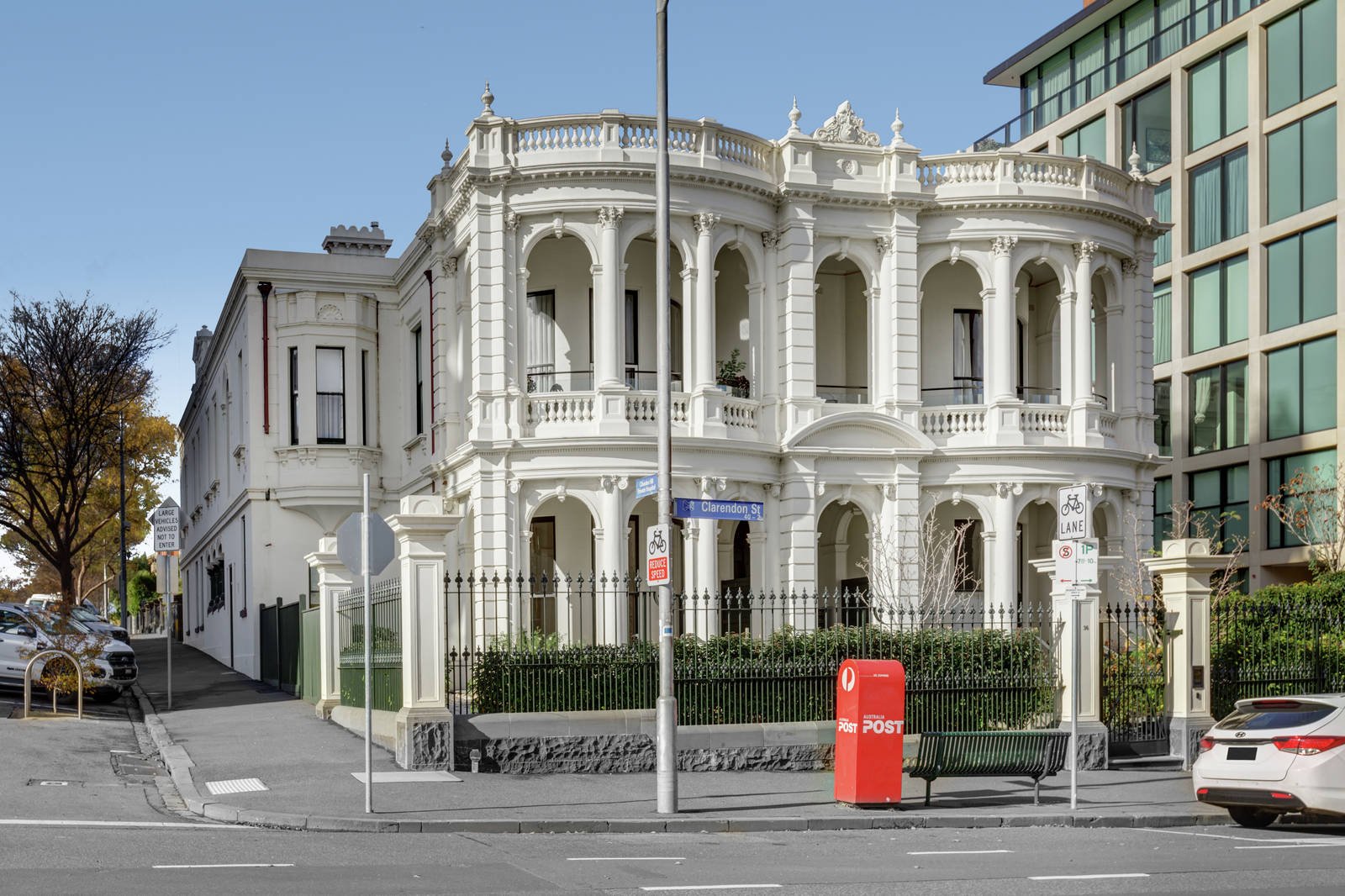 C1881 "Mosspennoch" Apartment G01
Bedroom:

3

Bathroom:

2

Carspace:

2
A landmark East Melbourne ground floor apartment of some 270 sqm is "as new", superbly presented and of magnificent proportions with restored original features.
In a brilliant location on the corner of George and Clarendon Street, this 3 bedroom, 2 bathroom residence enjoys gracious views across Fitzroy Gardens to the City from both the large formal living room and adjacent kitchen. The apartment's northerly aspect provides abundant natural light to all living areas, including a beautiful loggia which opens off the informal living room. The apartment boasts the original wine cellar of Mosspennoch House.
The bay windows of this expansive apartment provide scale whilst the formal and informal living spaces offer contemporary lifestyle flexibility. A generous private terrace is accessible directly from the apartment and is surrounded by a substantial garden which extends across the Clarendon Street frontage of the property.
Offers excellent security, 2 secure basement carparks and storage with direct lift access; and, modern amenities, including heating and cooling, original fireplaces and decorative cornices.
An A1 position that is a short walk to rail and tram access; a 10-minute walk to the Paris end of Collins Street with its elegant shopping, fine dining, theatres, and other world class attractions; a hop, step and jump to the world's premier sporting ground, the MCG and to the Melbourne Tennis Centre; close proximity to hospitals; and, easy access to major freeways.
Call today to inspect by appointment or as advertised.
Inspection Times
Sat 20th Aug.
11:00AM - 11:30AM

08/20/2022 11:00AM

08/20/2022 11:30AM

Australia/Melbourne

C1881 "Mosspennoch" Apartment G01

A landmark East Melbourne ground floor apartment of some 270 sqm is "as new", superbly presented and of magnificent proportions with restored original features. In a brilliant location on the corner of George and Clarendon Street, this 3 bedroom, 2 bathroom residence enjoys gracious views across Fitzroy Gardens to the City from both the large formal living room and adjacent kitchen. The apartment's northerly aspect provides abundant natural light to all living areas, including a beautiful loggia which opens off the informal living room. The apartment boasts the original wine cellar of Mosspennoch House. The bay windows of this expansive apartment provide scale whilst the formal and informal living spaces offer contemporary lifestyle flexibility. A generous private terrace is accessible directly from the apartment and is surrounded by a substantial garden which extends across the Clarendon Street frontage of the property. Offers excellent security, 2 secure basement carparks and storage with direct lift access; and, modern amenities, including heating and cooling, original fireplaces and decorative cornices. An A1 position that is a short walk to rail and tram access; a 10-minute walk to the Paris end of Collins Street with its elegant shopping, fine dining, theatres, and other world class attractions; a hop, step and jump to the world's premier sporting ground, the MCG and to the Melbourne Tennis Centre; close proximity to hospitals; and, easy access to major freeways. Call today to inspect by appointment or as advertised.

1/36 Clarendon Street, East Melbourne VIC 3002
1/36 Clarendon Street, East Melbourne VIC 3002