Balwyn

1/28 King Street
Private Auction (Unless Sold Prior) $2.3 - $2.4M
Auction Tue December 07, 2021 11 AM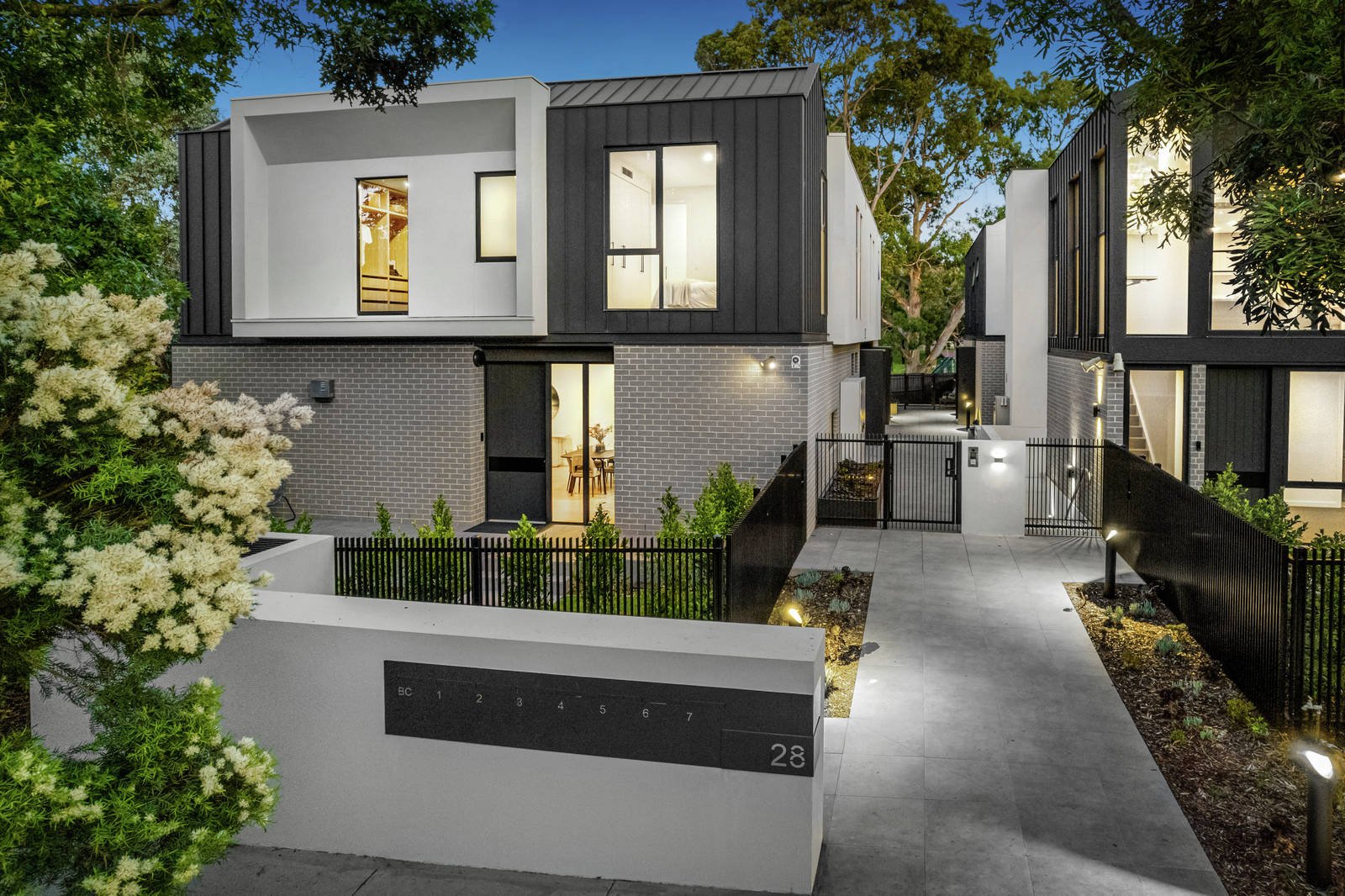 Sophisticated, Sustainable, Superb
Bedroom:

3

Bathroom:

2

Carspace:

2
An address that ensures enjoyment of Balwyn today's way, this superb KINGS VUE residence reflects the commitment of its creators to design and deliver future-proof properties that make a positive contribution to the life, and the lifestyle, of those who own and occupy them.
It's a refreshing approach and its impact is instantly recognizable throughout these dynamic desirable spaces. Great ground level dimensions for living and dining featuring fabulous European oak floors are complemented by light, luxury and an open-plan kitchen offering elegant stone tones, customized joinery, bespoke finishes and a full suite of European appliances.
Beyond, King Street Chain Reserve contributes a backdrop of leafy allure for a design offering three upstairs bedrooms and two beautifully fitted and finished bathrooms featuring the main bedroom's fabulous marble ensuite.
Private internal lift access links all levels, including a brilliant basement where the character of a generous rumpus room is matched by the convenience of a separate laundry and secure garaging for two cars.
Reverse cycle heating/air-conditioning ensures constant comfort throughout a home that's further enhanced by luxurious looped wool carpeting, subtle LED downlights and home automation technology allows you to personally program your spaces from your mobile or tablet or voice commands.
KINGS VUE is Balwyn at its best, for today, tomorrow and beyond.
Inspection Times
Thu 2nd Dec.
1:00PM - 1:30PM

12/02/2021 01:00PM

12/02/2021 01:30PM

Australia/Melbourne

Sophisticated, Sustainable, Superb

An address that ensures enjoyment of Balwyn today's way, this superb KINGS VUE residence reflects the commitment of its creators to design and deliver future-proof properties that make a positive contribution to the life, and the lifestyle, of those who own and occupy them. It's a refreshing approach and its impact is instantly recognizable throughout these dynamic desirable spaces. Great ground level dimensions for living and dining featuring fabulous European oak floors are complemented by light, luxury and an open-plan kitchen offering elegant stone tones, customized joinery, bespoke finishes and a full suite of European appliances. Beyond, King Street Chain Reserve contributes a backdrop of leafy allure for a design offering three upstairs bedrooms and two beautifully fitted and finished bathrooms featuring the main bedroom's fabulous marble ensuite. Private internal lift access links all levels, including a brilliant basement where the character of a generous rumpus room is matched by the convenience of a separate laundry and secure garaging for two cars. Reverse cycle heating/air-conditioning ensures constant comfort throughout a home that's further enhanced by luxurious looped wool carpeting, subtle LED downlights and home automation technology allows you to personally program your spaces from your mobile or tablet or voice commands. KINGS VUE is Balwyn at its best, for today, tomorrow and beyond.

1/28 King Street, Balwyn VIC 3103

Sat 4th Dec.
12:00PM - 12:30PM

12/04/2021 12:00PM

12/04/2021 12:30PM

Australia/Melbourne

Sophisticated, Sustainable, Superb

An address that ensures enjoyment of Balwyn today's way, this superb KINGS VUE residence reflects the commitment of its creators to design and deliver future-proof properties that make a positive contribution to the life, and the lifestyle, of those who own and occupy them. It's a refreshing approach and its impact is instantly recognizable throughout these dynamic desirable spaces. Great ground level dimensions for living and dining featuring fabulous European oak floors are complemented by light, luxury and an open-plan kitchen offering elegant stone tones, customized joinery, bespoke finishes and a full suite of European appliances. Beyond, King Street Chain Reserve contributes a backdrop of leafy allure for a design offering three upstairs bedrooms and two beautifully fitted and finished bathrooms featuring the main bedroom's fabulous marble ensuite. Private internal lift access links all levels, including a brilliant basement where the character of a generous rumpus room is matched by the convenience of a separate laundry and secure garaging for two cars. Reverse cycle heating/air-conditioning ensures constant comfort throughout a home that's further enhanced by luxurious looped wool carpeting, subtle LED downlights and home automation technology allows you to personally program your spaces from your mobile or tablet or voice commands. KINGS VUE is Balwyn at its best, for today, tomorrow and beyond.

1/28 King Street, Balwyn VIC 3103
Auction Times
Tue 7th Dec.
11:00AM

12/07/2021 11:00AM

Australia/Melbourne

Auction - Sophisticated, Sustainable, Superb

An address that ensures enjoyment of Balwyn today's way, this superb KINGS VUE residence reflects the commitment of its creators to design and deliver future-proof properties that make a positive contribution to the life, and the lifestyle, of those who own and occupy them. It's a refreshing approach and its impact is instantly recognizable throughout these dynamic desirable spaces. Great ground level dimensions for living and dining featuring fabulous European oak floors are complemented by light, luxury and an open-plan kitchen offering elegant stone tones, customized joinery, bespoke finishes and a full suite of European appliances. Beyond, King Street Chain Reserve contributes a backdrop of leafy allure for a design offering three upstairs bedrooms and two beautifully fitted and finished bathrooms featuring the main bedroom's fabulous marble ensuite. Private internal lift access links all levels, including a brilliant basement where the character of a generous rumpus room is matched by the convenience of a separate laundry and secure garaging for two cars. Reverse cycle heating/air-conditioning ensures constant comfort throughout a home that's further enhanced by luxurious looped wool carpeting, subtle LED downlights and home automation technology allows you to personally program your spaces from your mobile or tablet or voice commands. KINGS VUE is Balwyn at its best, for today, tomorrow and beyond.

1/28 King Street, Balwyn VIC 3103
1/28 King Street, Balwyn VIC 3103