Kew

1 Molesworth Street
Expressions Of Interest Closing Wed 15th Dec 5pm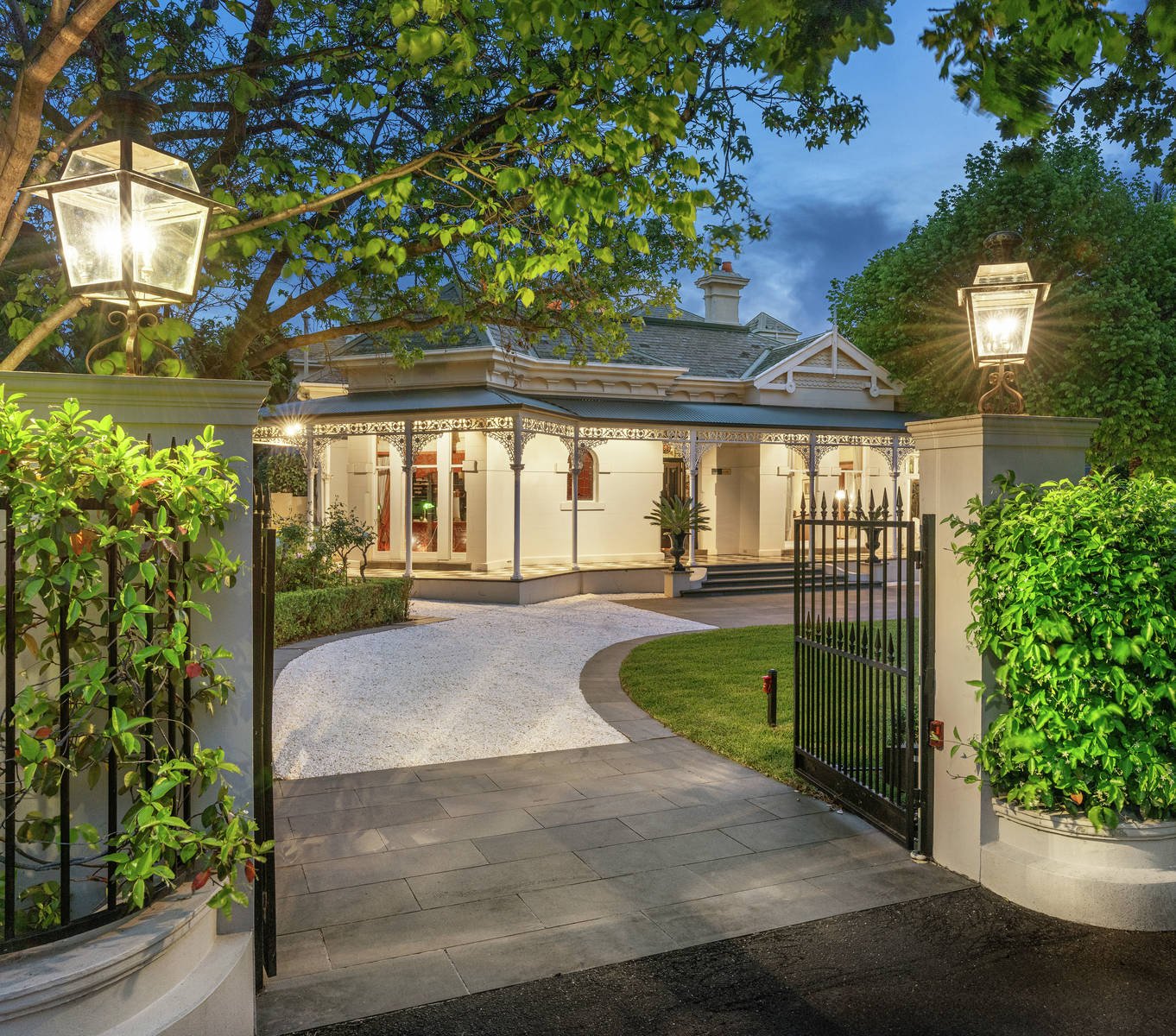 'Molesworth' c1896
Bedroom:

6

Bathroom:

6

Carspace:

4
INSPECTION BY APPOINTMENT
This luxurious Victorian mansion in one of Melbourne's finest streets, is among the city's most exclusive family estates.
Molesworth Street has always been home to captains of industry and professionals drawn to its glorious period homes on huge blocks where families can spread their wings.
Built c1896, this loved family home and lavish entertainer continues to host royalty, diplomats and global leaders in the arts, government, business and fashion in its collection of luxurious rooms.
Complete with soaring ceilings, deep skirting boards, marble mantelpieces, stained glass windows and French doors throughout, this is a showcase of the best of Victorian architecture combined with the best of contemporary luxury and comfort, but unlike many Victorian homes, it is filled with natural light.
Renovated and sympathetically updated with city views from upstairs, it boasts six bedrooms, six bathrooms, including marble ensuites, multiple formal and informal living rooms, two studies or music room and billiards room, and a brilliant connection to the outdoors. Nine "garden rooms", have tree-lined avenues, fountains, ponds, a heated swimming pool, spa, swim up gazebo, tennis court and a carriage house, all used for grand scale outdoor entertaining.
A lace-trimmed verandah leads to the majestic reception hall set beneath a soaring timber-lined ceiling. Among the formal front rooms, is the grand sitting room, the dramatic, red-wallpapered dining room, both with magnificent garden views and fireplaces and the gracious music room or study.
The informal family living room, also with a fireplace, opens through a series of French doors to the verandah overlooking the rear garden. The kitchen, with marble benchtops, a Falcon cooker and timber cabinetry overlooks the dining area, with a television room nearby.
The craftsman-built staircase arrives at the vast first floor with a billiards room or study, full-width verandah and city views. Six bedrooms include the deluxe main suite with a dressing room and decadent marble ensuite. Downstairs bedrooms include a designer suite with dressing room and marble ensuite.
A self-contained two-storey garden apartment has a gym and upstairs kitchen, living, bedroom and ensuite.
With marble and timber floors, lavish drapes, cellar, ducted heating and security, this unique property is a celebration of excellence, elegance and ease of living in one of Melbourne's most iconic, quiet, leafy streets. World class schools, cycling to the city and golf and recreational activities all within walking distance or a short tram ride away.
Listed in conjunction with Kay & Burton. Contact - Ross Savas 0418 322 994, rsavas@kayburton.com.au
Inspection Times
Thu 2nd Dec.
2:00PM - 2:30PM

12/02/2021 02:00PM

12/02/2021 02:30PM

Australia/Melbourne

'Molesworth' c1896

INSPECTION BY APPOINTMENT This luxurious Victorian mansion in one of Melbourne's finest streets, is among the city's most exclusive family estates. Molesworth Street has always been home to captains of industry and professionals drawn to its glorious period homes on huge blocks where families can spread their wings. Built c1896, this loved family home and lavish entertainer continues to host royalty, diplomats and global leaders in the arts, government, business and fashion in its collection of luxurious rooms. Complete with soaring ceilings, deep skirting boards, marble mantelpieces, stained glass windows and French doors throughout, this is a showcase of the best of Victorian architecture combined with the best of contemporary luxury and comfort, but unlike many Victorian homes, it is filled with natural light. Renovated and sympathetically updated with city views from upstairs, it boasts six bedrooms, six bathrooms, including marble ensuites, multiple formal and informal living rooms, two studies or music room and billiards room, and a brilliant connection to the outdoors. Nine "garden rooms", have tree-lined avenues, fountains, ponds, a heated swimming pool, spa, swim up gazebo, tennis court and a carriage house, all used for grand scale outdoor entertaining. A lace-trimmed verandah leads to the majestic reception hall set beneath a soaring timber-lined ceiling. Among the formal front rooms, is the grand sitting room, the dramatic, red-wallpapered dining room, both with magnificent garden views and fireplaces and the gracious music room or study. The informal family living room, also with a fireplace, opens through a series of French doors to the verandah overlooking the rear garden. The kitchen, with marble benchtops, a Falcon cooker and timber cabinetry overlooks the dining area, with a television room nearby. The craftsman-built staircase arrives at the vast first floor with a billiards room or study, full-width verandah and city views. Six bedrooms include the deluxe main suite with a dressing room and decadent marble ensuite. Downstairs bedrooms include a designer suite with dressing room and marble ensuite. A self-contained two-storey garden apartment has a gym and upstairs kitchen, living, bedroom and ensuite. With marble and timber floors, lavish drapes, cellar, ducted heating and security, this unique property is a celebration of excellence, elegance and ease of living in one of Melbourne's most iconic, quiet, leafy streets. World class schools, cycling to the city and golf and recreational activities all within walking distance or a short tram ride away. Listed in conjunction with Kay & Burton. Contact - Ross Savas 0418 322 994, rsavas@kayburton.com.au

1 Molesworth Street, Kew VIC 3101

Sat 4th Dec.
2:00PM - 2:30PM

12/04/2021 02:00PM

12/04/2021 02:30PM

Australia/Melbourne

'Molesworth' c1896

INSPECTION BY APPOINTMENT This luxurious Victorian mansion in one of Melbourne's finest streets, is among the city's most exclusive family estates. Molesworth Street has always been home to captains of industry and professionals drawn to its glorious period homes on huge blocks where families can spread their wings. Built c1896, this loved family home and lavish entertainer continues to host royalty, diplomats and global leaders in the arts, government, business and fashion in its collection of luxurious rooms. Complete with soaring ceilings, deep skirting boards, marble mantelpieces, stained glass windows and French doors throughout, this is a showcase of the best of Victorian architecture combined with the best of contemporary luxury and comfort, but unlike many Victorian homes, it is filled with natural light. Renovated and sympathetically updated with city views from upstairs, it boasts six bedrooms, six bathrooms, including marble ensuites, multiple formal and informal living rooms, two studies or music room and billiards room, and a brilliant connection to the outdoors. Nine "garden rooms", have tree-lined avenues, fountains, ponds, a heated swimming pool, spa, swim up gazebo, tennis court and a carriage house, all used for grand scale outdoor entertaining. A lace-trimmed verandah leads to the majestic reception hall set beneath a soaring timber-lined ceiling. Among the formal front rooms, is the grand sitting room, the dramatic, red-wallpapered dining room, both with magnificent garden views and fireplaces and the gracious music room or study. The informal family living room, also with a fireplace, opens through a series of French doors to the verandah overlooking the rear garden. The kitchen, with marble benchtops, a Falcon cooker and timber cabinetry overlooks the dining area, with a television room nearby. The craftsman-built staircase arrives at the vast first floor with a billiards room or study, full-width verandah and city views. Six bedrooms include the deluxe main suite with a dressing room and decadent marble ensuite. Downstairs bedrooms include a designer suite with dressing room and marble ensuite. A self-contained two-storey garden apartment has a gym and upstairs kitchen, living, bedroom and ensuite. With marble and timber floors, lavish drapes, cellar, ducted heating and security, this unique property is a celebration of excellence, elegance and ease of living in one of Melbourne's most iconic, quiet, leafy streets. World class schools, cycling to the city and golf and recreational activities all within walking distance or a short tram ride away. Listed in conjunction with Kay & Burton. Contact - Ross Savas 0418 322 994, rsavas@kayburton.com.au

1 Molesworth Street, Kew VIC 3101
1 Molesworth Street, Kew VIC 3101